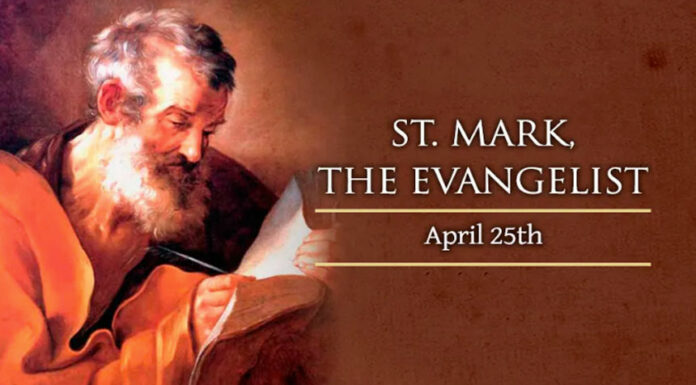 • April 25, 2023, Today's Rosary on YouTube | Daily broadcast at 7:30 pm ET
• Audio Podcast of this Rosary is Available Here Now!
Friends of the Rosary:
Today is the Feast Day of St. Mark, the Evangelist, the author of the second Gospel. He was baptized and instructed by St. Peter. Mark accompanied Paul on his missionary journey. Later, he became the companion and secretary of St. Peter in Rome.
The Gospel of Mark, written in the year 50 A.D., narrates St. Peter's preaching about the Our Lord and emphasizes the miraculous power of Jesus Christ.
The Gospel of St. Mark, the shortest of the four, is a Roman Gospel, originated in Rome and is addressed to Romans, that is, to Western Christianity.
Mark preached in Egypt, especially in Alexandria, where he was a bishop and died as a martyr. His relics were transferred from Alexandria to Venice, where a worthy tomb was erected in St. Mark's Cathedral.
Ave Maria!
Jesus, I Trust In You!
St. Mark, Pray for Us!
+ Mikel A. | RosaryNetwork.com, New York