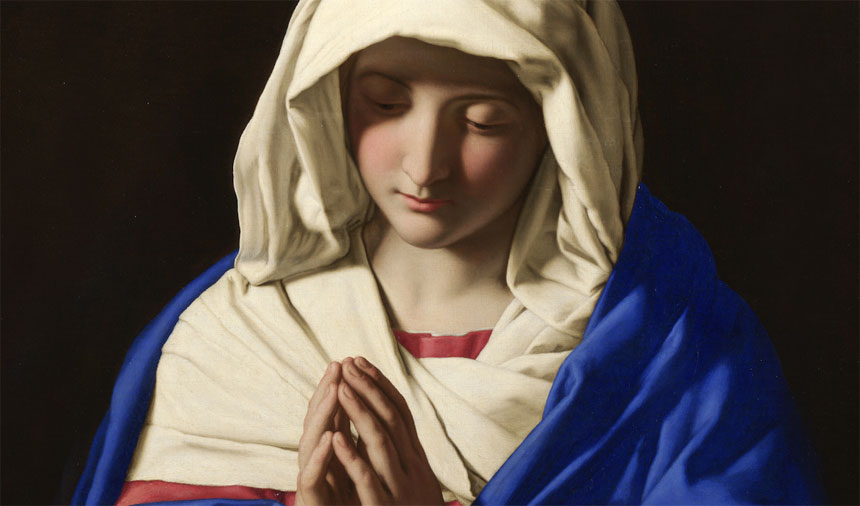 • In the Loving Memory of Maria Blanca: Testimonials
JANUARY 2022
"This has changed my life." — Christopher Baldwin

"Thank you for the beautiful gift of your network community. It has truly blessed my life." — Theresa Holcomb
"My condolences to you and your family. I am a new Catholic and was baptized during the pandemic in 2020. The Rosary Network has helped me so much since then. Sometimes praying the rosary with you is so calming. I also enjoyed the Rosary walks and seeing different places in the world that I have never been to. You taught me to pray the Hail Mary and Salve Regina in Latin. I am still practicing the Our Father and I look forward to learning how to say Hail Mary in Spanish! The courage and strength you have during your time of mourning is incredible and brings me hope in my own difficulties. Thank you SO much! God bless you and your family." — Geeta Etwaroo
"Magnificent dear Mikel! What a Glory to God you are and such a faithful son of our beloved Blessed Mother. Very impressive praying the rosary out loud while walking up the rugged holy hills to the Pines btw.👍 The sun appeared to be dancing at one point too. Looking forward to seeing you again soon dear Mikel in our beautiful San Sebastián de Garabandal in God's Adorable Divine Will!" — Anne Weigel
"I am converting to Catholicism and have been listening most days and praying alongside you. It started so that I could learn the Rosary but has become a genuine prayerful action in my head, heart, and spirit. Your heartfelt prayer and the love of your wife Maria have brought me back day after day and I truly feel closer to God and am gaining a deeper understanding of Mother Mary. I was not raised praying for intercession from anyone so it's been very enlightening. ❤️" — Sara Michael Hunt
"Thank you, Mikel, for taking us to Garabandal today, a Holy Place. The Great Warning prophesied there is imminent according to various chosen instruments (for example, Luz de Maria) and we are urged to prepare for the event by sincere, humble repentance and conversion and observing God's commandments well. May God bless you and have mercy on us poor sinners!" — Hyemin Kwun Hyemin Kwun
DECEMBER 2021
"Thank you so much for praying for my Father and me during last night's Rosary. I listen every night and I can't begin to tell you how much comfort it brings me. I'm truly sorry for the loss of your wife and just wanted you to know doing the Rosary with all of you every night has made some very difficult times easier. Thank you again. God Bless you all" — Cindy Penna

"I loved the recent rosary with the group of people last week. I listened on Spotify while going on a walk, it was beautiful." — Anna Gee
"May we all pray in thanksgiving for the life of Maria Blanca and Mikel, together with their family and loved ones, who are helping us all to be more faithful in praying this most powerful prayer! I would like to thank Mikel for sharing his miracle sign from his beloved wife, Maria. I believe also, in daily miracles and signs of wonder and awe…praise be the Holy Name of Jesus, and for His Holy Mother, our Mother! I pray in this holy season of Advent, for belief in miracles, which are all prayers answered in God's Holy Will, and for the intentions of all in the Rosary Network." — Anne Rueb
NOVEMBER 2021
"Keep going, Mikel. If not for you I'd never do this many rosaries. You're aiding me to heaven." — Mary MCM
OCTOBER 2021
"The man who does the daily rosary. I have been listening for over a year now. His wife died. My condolences. His prayer and devotion helped me get through and very difficult times. What is his name? Who is he?" — Peter
"Dear God, I come to you, I don't know how I found this network, from this platform the Rosary Network I am touched with the Holy Spirit, I feel so much Blessed. Thank you, Lord, Thank you, Jesus, Thank you, Mother Mary, Thank you Holy Spirit, Thank you Angels." — Deidre L. 
"Thank you always for the peace you transmit through prayer and doing this every day so myself and the children have a community to pray with." — Anna
"Thank you with faith to Mikel, our family prays Holy Rosary with you each night. We have prayed with other good sites, but prefer yours due to fact that you seem to be very holy, very efficient to get right to prayer—the most powerful reason we tune in. We are praying for your dear wife—may God heal her according to His Will for Her Best. With Trust in our Savior and Blessed Mother," — Anne R.
"You are one of my supports gifted from God. Thank you for praying the Rosary each day.
I pray for you and your wife. Thank you for letting us know how she fares. It means a great deal, especially to me at this time. I have a special uncle with multiple myeloma and another family member with an aggressive cancer tumor. May God bless you and bring comfort to you and your wife." — Adrian S.
"My wife and I end each day with your rosary and are so grateful for you. Last night you prayed a Hail Mary in Spanish for your wife in the ICU, and I wanted to let you know that we too are praying for her. May Mary intercede powerfully with her motherly voice to her Son, our Lord for your wife's health. Peace." — Gerret and Heather P.
SEPTEMBER 2021
"Ty for all the hard work and devotion you put into your daily Rosary for our benefit. The Blessed Mother is pleased & will reward you! God Bless you and all your family!!" — Sher Smith
"Mikel, I wanted to thank you for all of your work with the Rosary Network! I look forward to praying the rosary along with you each day. Your devotion to the Most Holy Blessed Virgin Mary is so comforting and inspiring. Our Divine Mercy Adoration Chapel at St. Ann's Church in Wilm, DE has recently (finally!) opened back up. I help to keep things running smoothly there. I wanted you to know that I have been praying for your wife in front of Our Lord in the Blessed Sacrament. I pray for her complete and total recovery from cancer. My father suffers from myelofibrosis, and I understand some of the pain in these blood cancers. Please tell your wife we will continue to offer prayers on her behalf. Please keep us posted. God bless you!!!" — Your friend in Christ, Kelly D.
Thank you so much for helping me get through a lot and helping Us Learn About Saints. Amén 🕊🕊🕊♥️🤲🏼 — Cris R
AUGUST 2021
"✝️Thank you, and May God Bless YOU, your Loved Ones. I've been a long-time listener on Spotify. As a devotee to Our Lady of Fátima, I feel so blessed and humbled to finally see the Person Who has Helped Me Meditate on intentions and mysteries, of the Blessed Rosary of Our Blessed Mother. Thank you and May God Always Bless You, and All who are part of This Community, and Friends of The Rosary. Amén 🙏🏼 🕊❤️😇" — Cris R
"I absolutely adore your rosaries–and I am sure the Mother does as well–I love the history and locations that you mix in with each rosary–I learn so much–as well as get a peaceful and relaxing rosary with every video event–keep up the good work" — Dana Sandlin
"I love your prayers and all the beautiful places you bring prayers for you and your family especially your wife may God's love be upon her and healing come soon. Love you &family ♥️🙏🏼♥️🙏🏼" — Bee Graceful


JULY 2021
"Thank you for all you do for the followers of the Rosary Network. God Bless you." – Windsor Maguire
JUNE 2021
"Thank you rosary network. My mom and I have been praying the rosary with you guys since February. She passed away on June 7th. I used this video to pray the rosary at her death bed. I wanted to thank you for teaching me the rosary and also the great memories you gave me with my mom. We loved praying the rosary together. We love the rosary network and you are all in my prayers. 🙏 God bless" — Erykah
APRIL 2021
"You are truly devoted & will be rewarded. God Bless You! I love praying the Rosary with you, it is a very moving & spiritual experience. Thanks!" — Sher Smith
"Thank you for this lovely presentation of the rosary. Your voice is pleasant and soothing, expressing devotion well." — Susan Andrus
"Thank you for your beautiful devotion to our Blessed Mother & helping us all to pray the Holy Rosary together! God Bless You… You are saving Souls!!" — Sher Smith
MARCH 2021
"May God bless this holy channel" — Angel Flys
"I just love your holy devotion to the Blessed Mother & how beautifully you praise Her along with St. Michael & St. Joseph & incorporate Latin along with it all. God Bless you for you are truly saving souls!! — Sher Smith
"Dear Mikel and The Rosary Network family… What a blessing this daily rosary video has been for me – and I'm sure for many others. I pray along on YouTube every morning since I discovered it. I'm sure our Blessed Mother is smiling on this work of yours (hers)" —Jenna Ruth 
"Thank you so much for building this wonderful Rosary Network. I look forward to Praying along with you as often as I can. In this past year, it has brought me such Peace in the middle of so much going on. I look forward to being able to make the trip down to Greenwich to Pray in person when it's available. Keep up this important work. We need this now more than ever before." — Joey Carroll
"Thank you, Lord, for leading me to this place." — MichaelW
"I agree with you, Mikel. The rosary is the best way to meditate and get closer to Jesus through Mary." — Windsor Maguire

FEBRUARY 2021
"Thank you for a beautiful rosary under the snow." — Carol Dechand

JANUARY 2021
"After a long period of praying the Holy Rosary daily, I have begun to miss here and there due to extreme stress at work causing undue laxity in my prayer life. I tuned in to this video to help me get through my Rosary prayers today to ensure that I will indeed pray today as I should. Your love and deep devotion to God and to the Holy Family profoundly touched my heart. My soul thanks you." — Courtney Pollard
"Listening to these Rosary podcasts has been very centering as well as uplifting during these difficult times. Thank you again for creating such a wonderful and faithful prayer community." — Annie Emmert
"The 10 Virtues of the Queen of Heaven and Earth. May God bless you, Mikel" — Top Cat
"Mikel, thank you so much for continuing this rosary every day! I love it." — Jenna Ruth
"Thank you again for sharing a beautiful rosary. 🙏" — Thomas McCafferty
"God Bless You and your wife and family. Thank you for bringing the Rosary to our lives. May the Peace of Christ be always with you." — Debbie Regnerus
"Extremely thankful for the Rosary Network. #Gratitude for this awesome resource for those of us who are new to the life and blessings of doing the rosary, #LoveLivesHere" — Teresita Ayala
"I first wanted to say THANK YOU for your ministry with the Rosary Network. I recently discovered you, and the way you pray the rosary is such a reflective, relieving, and reassuring prayer during these difficult times. So, thank you — Tony Manfredonia
"Thank you Mikel for this rosary. I enjoy the prayers in Latin, the songs and information about the saint or feast that is celebrated every day. So glad I found this channel during this Christmas season. God Bless you." — Windsor Maguire
"Thank you so much for these daily rosaries. I am really enjoying them, and I'm learning the Hail Mary in Latin!! Bonus!! May God bless you." — Jenna Ruth
"This was just beautiful to enjoy at any point throughout the Christmas Season. Thanks so very much for your effort for all of us. God bless and all the best for 2021!" — Donna MacDonald
DECEMBER 2020
"Thank you for your beautiful rosaries, they have gotten me back into praying every night! 🙏 God bless you." — LindoDiciembre 
"Thank you. I enjoyed the prayers in Latin and meditation! Bendiciones 🙏  " — Adriana Machuca
"Peace Be With You and God Bless you for all your continued work 💛🙏🌹 Merry Christmas" — Alison Reibaud

"Thank you for these beautiful rosaries. I have just recently found this network; I am so glad I did!"
— Tracy At

"So happy to have found your channel! Thank you for praying the rosary. I will be praying with you daily!" — Stacie Tyson
"Magnificat Magnificat! So love that beautiful statue of Our Lady on the plinth. Thank you again!" — Margaret Hanley
"I'm so glad I found your rosary network! I actually discovered you on Spotify! Which is fantastic! I had a calling, purchased my first handmade rosary from a beautiful artist in Oregon! I love your daily rosary prayers. They really help! Especially with St. Michael the Archangel! Sending you good prayers and support from Detroit & my parish in Downtown, St. Joseph Shrine. Be blessed, my friend! Keep up the magnificent work you're doing! So powerful!" — Aries 8402
"Beautiful Rosary 📿 😍 I learn something new" 💕🙏🙏🙏 
— Yanet Efthos

"Thank you for praying the rosary with us."
— Roman Enriquez

"Thank you, this was absolutely beautiful to pray with you. God Bless You" 🙏🙌  — The Spiritual Advocate
"Lots of love for this Rosary Network from Saint Francis Xavier birthplace" — JAL
NOVEMBER 2020
"I am so happy to have found this video! I prayed and sang alongside this very kind, Godly man."
—
Judi Hunsuckle

"Hi…Please Pray for me and my family, friends, and fellow workers while you are in Garabandal… Thank You and Godspeed" ✝️🙏🙏🙏👍🤠   — Randy McLaughlin
"Excellent job! I wonder how many people in the 5000 estimated audience would NOT be praying the Rosary if it wasn't for your daily commitment! Awesome work" — Saul Padilla

OCTOBER 2020
"I came on to find a daily rosary and I found you. Thank you for sharing." 🙏 
— Marie 15

"Just what I need The Holy Rosary especially in these awful lonely times!" — Priory4u
"Very proud of you! Thank you for such an amazing effort to devote our Lady" — JAL II
"Thank you very much for your efforts, dedication, and love, along the last 150 days of Rosary. We celebrate the achievement with you and your family. You have created our community, increasing it day by day. For all of this, thank you both Mikel and Blanca. You are the heart of this community." — Jose Latorre