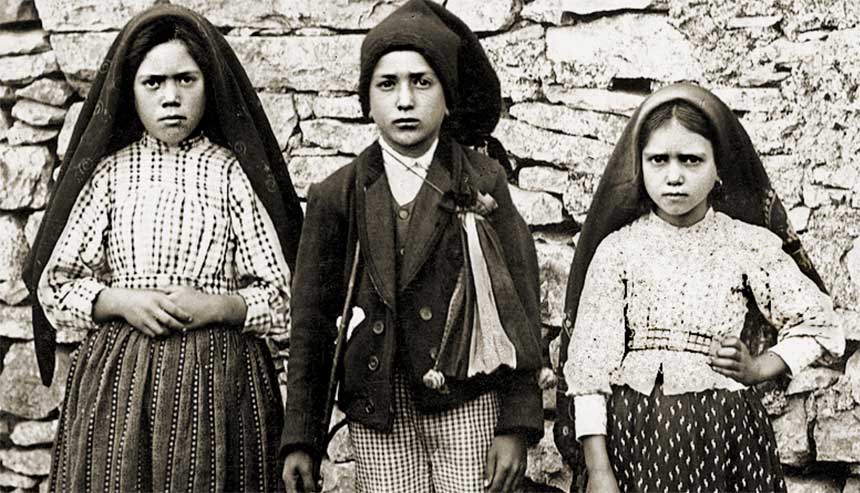 • February 21, 2023, Today's Rosary on YouTube | Daily broadcast at 7:30 pm ET
• Audio Podcast of this Rosary is Available Here Now!
Friends of the Rosary:
Yesterday, we honored Sts. Francisco and Jacinta Marto, two of three children of Fatima, along with Lucia Santos.
In 1917, the three shepherds saw the Blessed Virgin Mary at Cova da Iria, near Fatima, a city 110 miles north of Lisbon.
They were asked by the Virgin to learn to read and write and to pray the rosary "to obtain peace for the world and the end of the war."
The brother and sister Francisco, 11, and Jacinta, 10, were the youngest non-martyrs to be canonized in the history of the Church.
During the first apparition, which took place May 13, 1917, Our Lady asked the three children to say the Rosary and to make sacrifices, offering them for the conversion of sinners.
The children did, praying often, giving their lunch to beggars, and going without food themselves. They offered up their daily crosses and even refrained from drinking water on hot days.
In October 1918, Francisco and Jacinta became seriously ill with the Spanish flu. Our Lady appeared to them and said she would take them to heaven soon. Bed-ridden, Francisco requested his first Communion.
The following day, Francisco died, April 14, 1919. Jacinta suffered a long illness as well. She was eventually transferred to a Lisbon hospital and operated on for an abscess in her chest, but her health did not improve. She died on Feb. 20, 1920.
Francisco and Jacinta died offering their suffering for the conversion of sinners, peace in the world, and the Holy Father.
Her cousin, Lucia dos Santos, became a Carmelite nun and was still living when Jacinta and Francisco were beatified in 2000. Sister Lucia died five years later.
It was on May 13, 2000, on the 83rd anniversary of the first apparition of Our Lady at Fatima when Pope John Paul II beatified Francisco and Jacinta.
We learned that even young children can become saints!
Ave Maria!
Jesus, I Trust In You!
Sts. Francisco and Jacinta, Pray for Us!
+ Mikel A. | RosaryNetwork.com, New York