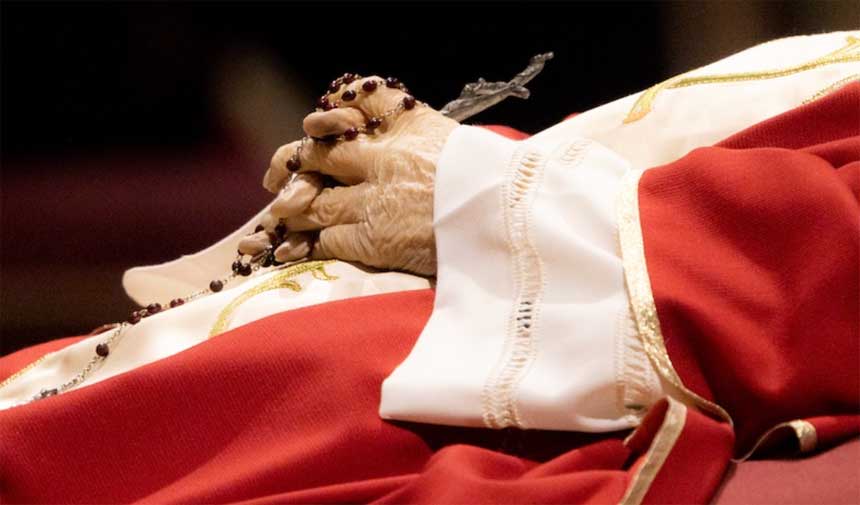 • January 5, 2023, Today's Rosary on YouTube | Daily broadcast at 7:30 pm ET
• Audio Podcast of this Rosary is Available Here Now!
Friends of the Rosary:
Today, while we pray for the eternal rest of the soul of Pope Benedict XVI and we enjoy the scenes from the funeral mass in Rome [see it below], we celebrate the Memorial of St. John Nepomucene Neumann, bishop (1811-1860).
John Neumann was born in Bohemia (current Czech Republic). While in the seminary he felt the desire to help in the American missions. After coming to the United States he was ordained in New York in 1836. Entering the Congregation of the Most Holy Redeemer (Redemptorists) in 1840, he worked in establishing parishes and parish schools. In 1852 he was consecrated Bishop of Philadelphia and prescribed the Forty Hours devotion.
In Rome, he participated in the Proclamation of the Dogma of our Blessed Mother's Immaculate Conception.
Bishop Neumann died at 48 years of age. Completely exhausted from all his apostolic endeavors, he collapsed in the street on January 5, 1860. He was beatified in 1963.
He is buried beneath the altar of the lower Church in St. Peter's Church in Philadelphia.
Ave Maria!
Jesus, I Trust In You!
St. John Neumann, Pray for Us!
+ Mikel A. | RosaryNetwork.com, New York