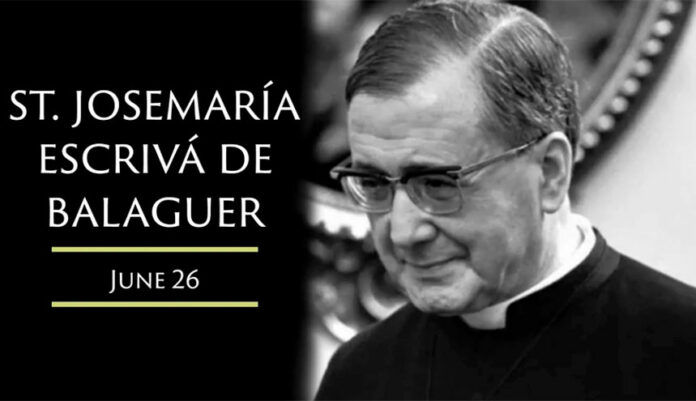 • June 26, 2023, Today's Rosary on YouTube | Daily broadcast at 7:30 pm ET
• Audio Podcast of this Rosary is Available Here Now!
Friends of the Rosary:
Today, one of the optional memorials refers to St. Josemaría Escrivá (1902-1975), the Spanish saint who founded the Opus Dei organization and opened a new path of holiness: sanctification by performing ordinary work and daily duties with a Christian spirit.
Canonized as a saint on October 6, 2002, St. Josemaría Escrivá helped the faithful in all walks of life to sanctify themselves in the midst of the world in the fulfillment of the Christian's ordinary duties.
St. Josemaría Escrivá touched through Opus Dei countless lives. After his death, thousands of people, including more than a third of the world's bishops, sent letters to Rome asking the Pope to open his cause of beatification and canonization. His beatification by Pope John Paul II on May 17, 1992, in St. Peter's Square in Rome, was attended by approximately 300,000 people.
John Paul II said of him: "St. Josemaría was chosen by the Lord to proclaim the universal call to holiness and to indicate that everyday life, its customary activities, are a path towards holiness. It could be said that he was the saint of the ordinary."
Ave Maria!
Jesus, I Trust In You!
St. Josemaría Escrivá, Pray for Us!
To Jesus through Mary!
+ Mikel A. | RosaryNetwork.com, New York