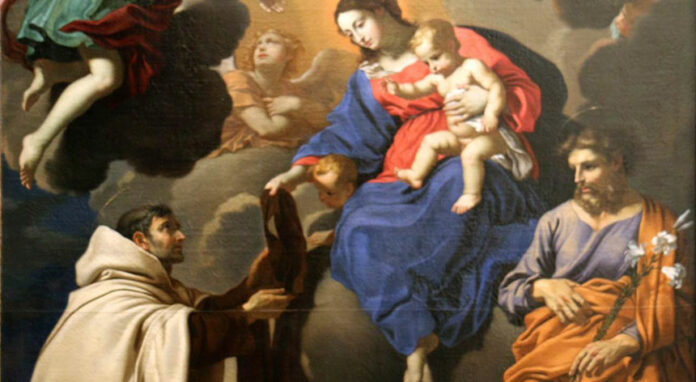 • May 16, 2023, Today's Rosary on YouTube | Daily broadcast at 7:30 pm ET
• Audio Podcast of this Rosary is Available Here Now!
Friends of the Rosary:
The Universal Church commemorates several saints today: St. Ubaldus, St. Brendan, St. Honoratus of Amiens, and St. Simon Stock. The sacrifice and the blood of saints and martyrs keep the faith and the eternal truth alive.
One of the saints is Simon Stock (1165-1265). He was a hermit member of the Carmelite order.
On July 16, 1251, St. Simon Stock had a vision of Our Lady, who gave him the Brown Scapular and promised final perseverance in grace to those who wear the brown scapular and remain faithful until death.
This vision led to the widespread devotion to Mary over the next centuries of wearing this scapular in her honor.
Ave Maria!
Jesus, I Trust In You!
St. Simon Stock, Pray for Us!
+ Mikel A. | RosaryNetwork.com, New York