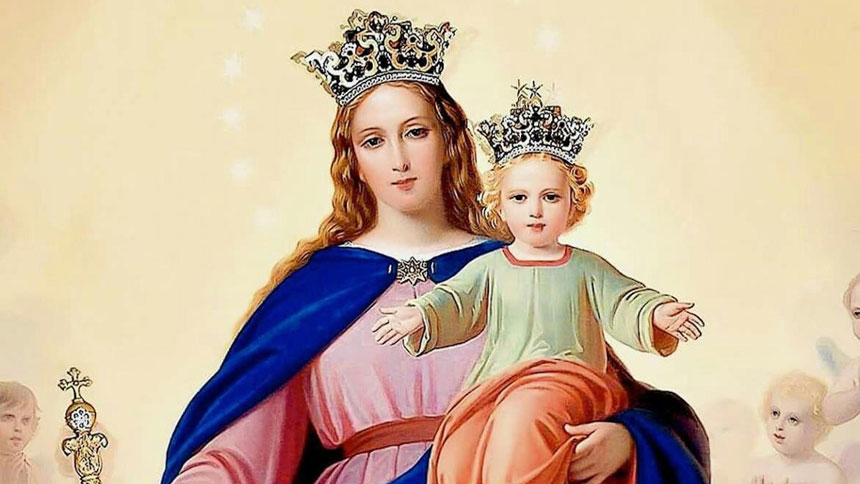 • May 24, 2021, Holy Rosary Today 7:30 pm ET, YouTube.com/TheRosaryNetwork
• Audio Podcast available by 7:00 pm ET
Friends of the Rosary:
Today, May 24, we celebrate an important Solemnity: Mary Help of Christians, María Auxiliadora, in Spanish. This feast is also observed as the Memorial of the Blessed Virgin Mary, Mother of the Church.
The Mother of God always has responded by helping Christians throughout the centuries. She has come to the aid of individuals, families, communities, towns, and nations.
As we say every day on the Memorare prayer, anyone who has implored Mary's help has been assisted. The Queen of the Universe can easily do all of this, and much more. If the world knew about the Our Advocate in Heaven, will be paralyzed by joy.
In addition to proving her maternal help, the Most Holy Virgin Mary has appeared in many places throughout the world, including in Guadalupe, Lourdes, and Fatima. She has brought help to her children while asking for truly Christian life.
In Fatima and other supernatural apparitions, She stressed that we must pray daily the Holy Rosary.
Ave Maria!
Jesus, I Trust In You!
Mary, Help of Christians Pray for Us!
+ Mikel A. | TheRosaryNetwork.org, New York
• St. John Bosco, popularly known as Don Bosco, founder of the Salesians, propagated the devotion of Mary Help of Christians.
• The title of Mary Help of Christians is associated with the defense of Christian Europe, the north of Africa, and the Middle East from non-Christian peoples during the Middle Ages.
• Mary Help of Christians is the Patron of the Church in Australia; New Zealand, and New York, among other places.
• All About Mary, Help of Christians