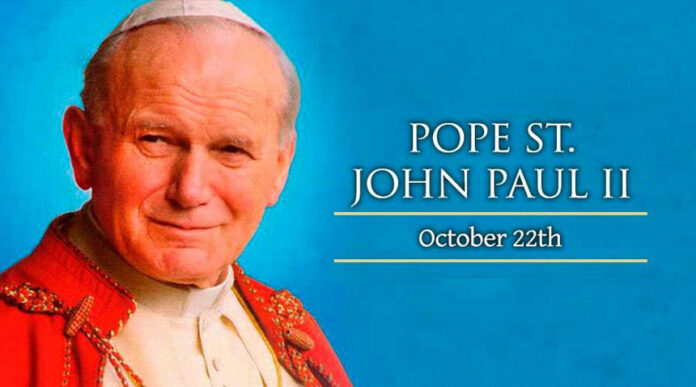 • October 22, 2023, Today's Rosary on YouTube | Daily broadcast at 7:30 pm ET
• The Audio Podcast of this Rosary is Available Here Now!
Friends of the Rosary:
Today, Sunday, October 22nd, on the Day of the Lord, we remember the charismatic Pope Saint John Paul II, an extraordinary testimony of holiness.
In the light of events in the Holy Land, we remember how John Paul II successfully encouraged dialogue with the Jews and with the representatives of Muslins and other religions, whom he several times invited to prayer meetings for peace, especially in Assisi.
His love for young people brought him to establish the World Youth Days. At the same time, his care for the family was expressed in the World Meetings of Families, which he initiated in 1994.
He promulgated the Catechism of the Catholic Church and instituted the Luminous Mysteries.
Ave Maria!
Jesus, I Trust In You!
St. John Paul II, Pray for Us!
To Jesus through Mary!
+ Mikel A. | RosaryNetwork.com, New York