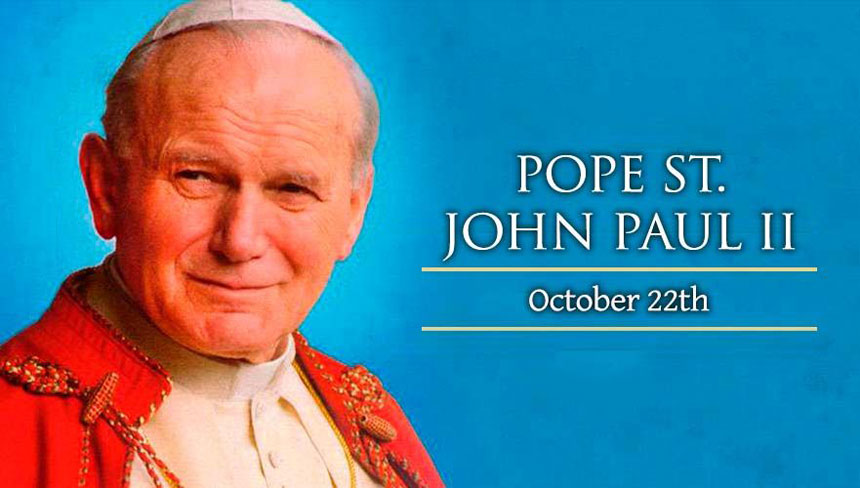 • October 22, 2021, Rosary Today 7:30 pm ET, YouTube.com/TheRosaryNetwork
• Audio Podcast available by 6:00 pm ET
Friends of the Rosary:
Today, October 22, is the Memorial Day of St. John Paul II, a contemporary, popular Pope, known for his doctrinal and apostolic zeal, particularly for families, young people, and the sick — which led him to numerous pastoral visits throughout the world. No other Pope met as many people like John Paul II.
Elected in 1978, the beloved Polish Pope promulgated the Catechism of the Catholic Church. He also was a big devout of the Holy Rosary. He added the Luminous Mysteries, following the Magisterium of the Church and reaffirming what St. Louis de Montfort and other saints and popes discerned.
On May 13, 1981, an attempt was made on Pope John Paul II's life in Saint Peter's Square. Saved by the maternal hand of Our Lady of Fatima, he forgave the attempted assassin and intensified his pastoral commitments with heroic generosity.
He died on April 2, 2005, and was buried in the crypt of Saint Peter's Basilica. Six years later, Pope Benedict XVI, his immediate successor, beatified him.
Ave Maria!
Jesus, I Trust In You!
St. John Paul II, Pray for Us! Totus Tuus!
+ Mikel A. | TheRosaryNetwork.org, New York