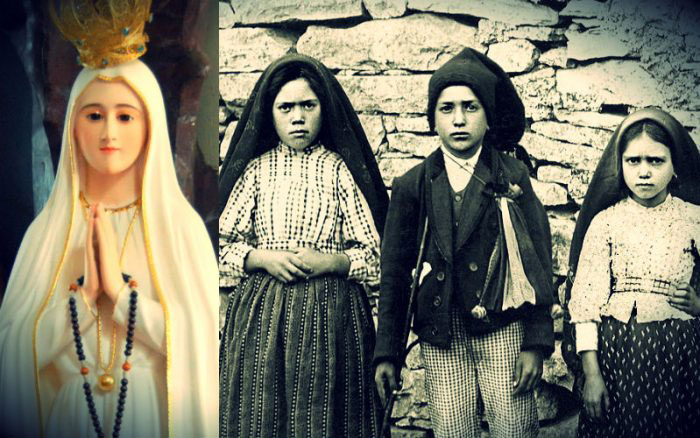 The Fatima prayers, along with the Rosary, are a part of what has been called Our Lady of Fatima's Peace Plan from Heaven.
Lucia dos Santos and her cousins Jacinta and Francisco Marto experienced supernatural visions the year before when an angel visited them three times in 1916. He called himself the Angel of Peace and taught them the first of these Fatima prayers, also known as the Pardon Prayer, that spring:
My God, I believe, I adore, I hope and I love Thee! I ask pardon for those who do not believe, do not adore, do not hope and do not love Thee.
He later referred to himself as the Angel of Portugal and taught them the second of our Fatima prayers, amazingly, while leaving a Host (the body and blood of our Lord Jesus Christ) and a golden chalice both suspended in mid-air. It is the Angel Prayer.
Most Holy Trinity – Father, Son and Holy Spirit- I adore Thee profoundly. I offer Thee the most precious Body, Blood, Soul, and Divinity of Jesus Christ, present in all the tabernacles of the world, in reparation for the outrages, sacrileges, and indifferences whereby He is offended. And through the infinite merits of His Most Sacred Heart and the Immaculate Heart of Mary, I beg of Thee the conversion of poor sinners.
When Our Lady appeared to the children in July 1917, She taught them this prayer (The Sacrifice Prayer), to be said when offering up personal sufferings, sacrifices, or acts of penance:
Oh my Jesus, I offer this for love of Thee, for the conversion of sinners, and in reparation for the sins committed against the Immaculate Heart of Mary.
This last of Fatima prayers followed shortly after Mary opened her hands and showed the children a terrifying vision of Hell. She then taught them to say this after each decade of the rosary, as we do today. We know it as the Fatima Prayer.
Oh My Jesus, forgive us our sins, save us from the fires of Hell, lead all souls to Heaven, especially those who have most need of Thy mercy.
• The 5 Prayers Revealed at Fatima that Every Catholic Should Know