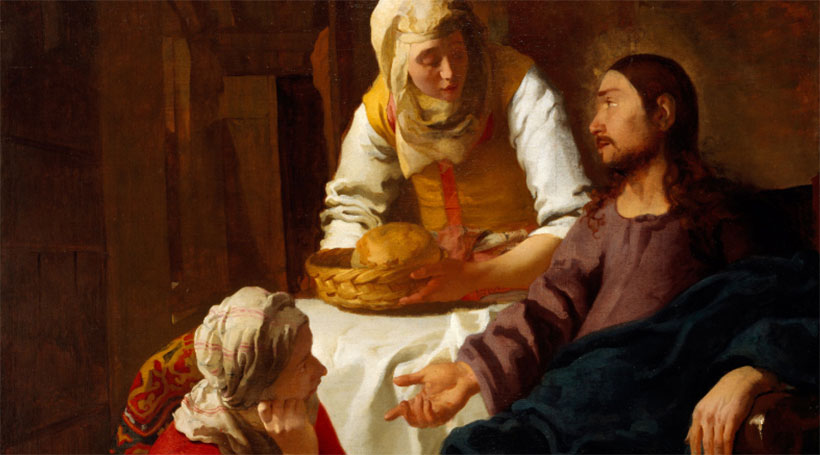 The Rosary Network | New York
> Today's Holy Rosary on YouTube and Facebook
Friends of the Rosary,
Today is the memorial day of Saint Martha.
Martha, her sister Mary of Bethany, and their brother Lazarus were close friends of Jesus.
Martha made a strong statement of faith in Jesus right after her brother's death, outside the tomb of Lazarus who had died four days earlier.
"Jesus told her, 'I am the resurrection and the life; whoever believes in me, even if he dies, will live, and everyone who lives and believes in me will never die. Do you believe this?' She said to him, 'Yes, Lord. I have come to believe that you are the Messiah, the Son of God, the one who is coming into the world" (John 11:25-27).
Martha's great faith would be confirmed by Jesus' raising her brother Lazarus from the grave.
In an earlier well-known passage of the New Testament, we saw an active Martha preparing the meal for Jesus and the Lord instructing her not to be anxious and worried about many things. Jesus emphasized the importance of contemplating Him before all things.
Later, Martha, infused with her faith, would appear serving the Lord at a house of Bethany. There Jesus was reclining at the table with Lazarus raised from the dead.
As John's Gospel tells, Martha served. Doing so, she showed us the way of Christian life.
[Written by Mikel A | TheRosaryNetwork.org]
–––
Saint Martha is the patron of housewives, servants, waiters, and cooks.