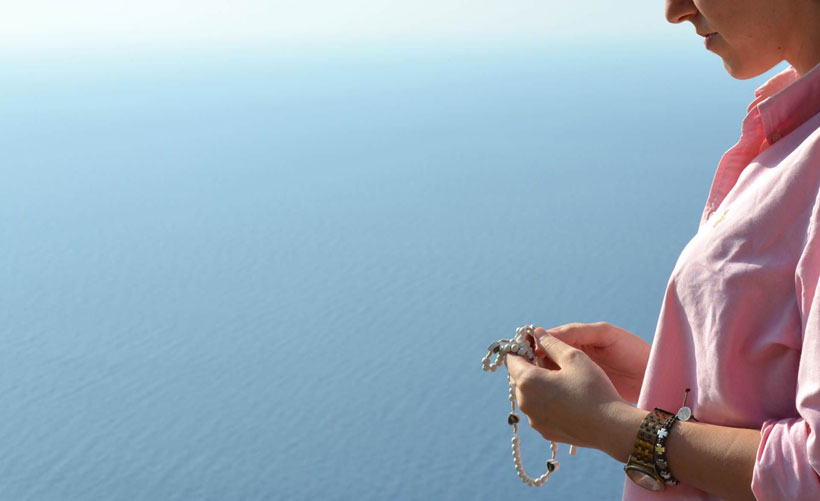 Posted at Zenit News Agency on March 9, 2020
Coronavirus: Comienza el rezo mundial del Rosario para frenar la ansiedad
9 de marzo, a las 7pm en Greenwich, USA
(zenit – 9 marzo 2020).- Ante la ansiedad, preocupación y pánico desatado por la crisis del coronavirus, que ya afecta a más de 100 países, proponen un remedio infalible a nivel mundial: el rezo del Rosario.
La parroquia católica de St. Roch en Greenwich, Connecticut, comenzará la primera serie del Santo Rosario a nivel nacional e internacional para pedir a la Madre Santísima el fin del Coronavirus. El evento tendrá lugar este lunes, 9 de marzo de 2020 y el Rosario se recitará toda la semana. "Rezaremos por las víctimas del Coronavirus y por todos los que sufren miedo y ansiedad por la enfermedad".
El CEO de una compañía de tecnología educativa de Nueva York, creó una pequeña organización sin ánimo de lucro, The Rosary Network, y escribió un pequeño libro.
"Suelo dirigir a diario el Rosario en otra parroquia de aquí, St. Michael".
"Aquí se está difundiendo localmente, y esperamos ver el efecto del primer día para desde ahí, en la medida que es una serie de Rosarios diarios, ir promoviéndolo a todos los niveles, incluyendo ponerlo online. El objetivo es que se adopte la idea a nivel nacional e internacional", explica Mikel, católico residente en los Estados Unidos.
The Rosary Network
"La Red del Rosario" (The Rosary Network) es una iniciativa americana sin ánimo de lucro para difundir el poder de la oración del Rosario, siguiendo el mensaje de nuestra Señora de Fátima.
Este apostolado mundial fue fundado por laicos católicos en el área de Nueva York. Está dirigido por Mikel A. bajo la guía y supervisión de prestigiosos sacerdotes católicos.
El movimiento organiza y promueve eventos para rezar el Rosario, junto con actividades educativas, en las que cualquier persona es bien avenida, sin requisitos previos.
Como dijo sor Lucía, la última vidente de Fátima: "No hay problema, por difícil que parezca, que no podamos solucionar rezando el Santo Rosario".
🔴🙏 Ante la crisis de #Ansiedad creada en torno al #coronavirus comienza hoy una cadena mundial del rezo del #Rosario

🔔A las 7pm se rezará esta semana el Rosario en la parroquia de St. Roch, en #Greenwich #Connecticut #USA https://t.co/NVzfqXTrRl

— Zenit Español (@zenitespanol) March 9, 2020