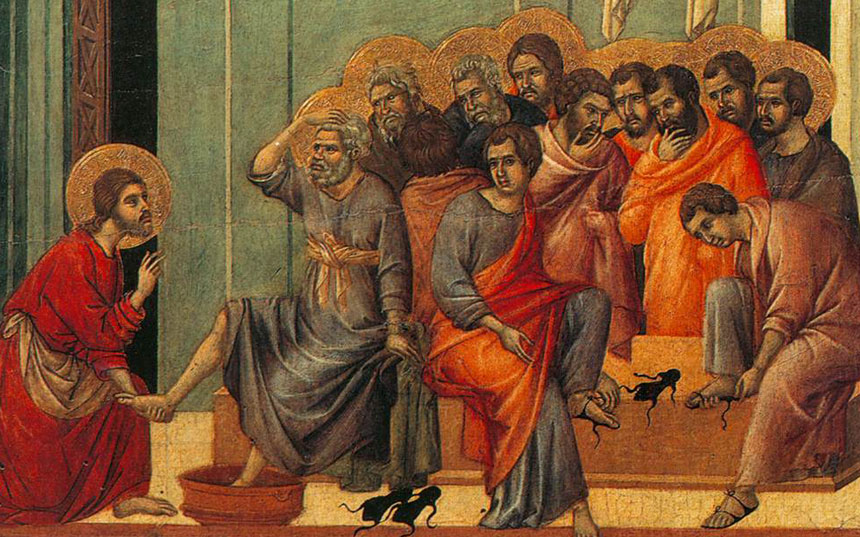 [ Second Year Anniversary | In the Memory of María Blanca ]
• April 14, 2021, Today's Holy Rosary on YouTube — Daily broadcast at 7:30 pm ET
• Audio Podcast of this Rosary Available Here Now!
• In Memoriam of Maria Blanca: Testimonials
Friends of the Rosary:
Today is Holy Thursday, also known as "Maundy Thursday." It's the first day of Sacred Triduum, the three-part drama of Christ's redemption: Holy Thursday, Good Friday, and Holy Saturday.
The word maundy comes from the Latin word mandatum (commandment). In the Last Supper, after completing the Washing of the Feet, Jesus Christ gave a commandment:
"I give you a new commandment: Love one another as I have loved you." (John 13:34).
We imitate today Christ's infinite humility in the washing of the feet and meditate on his actions on Holy Thursday, including the institution of the Eucharist and the Agony and Capture in the Garden of Olives.
Today, there are two Masses: the Chrism Mass, or Mass of the Holy Oils, and the evening Mass of the Lord's Supper, which recalls the institution of the Holy Eucharist and the priesthood and includes the Washing of the Feet.
The whole community of the parish participates, sings the Pange Lingua, and adores the Blessed Sacrament.
During this evening, there is a tradition, particularly in big cities of visiting seven churches and their altar of repose with the Eucharist.
Ave Maria!
Jesus, I Trust In You!
+ Mikel A. | RosaryNetwork.com, New York