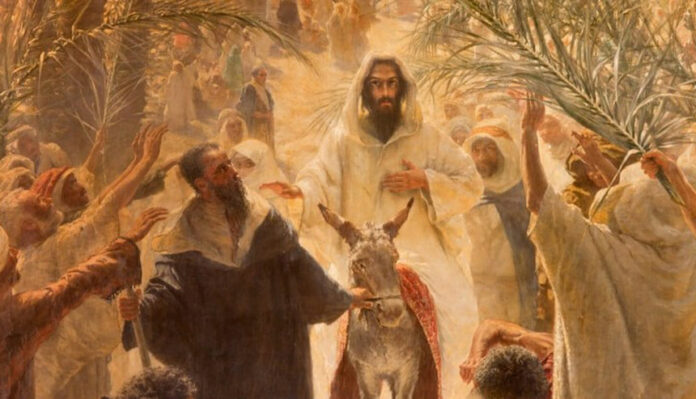 • April 2, 2023, Today's Rosary on YouTube | Daily broadcast at 7:30 pm ET
• Audio Podcast of this Rosary is Available Here Now!
Friends of the Rosary:
Today, on Palm Sunday of the Lord's Passion, we commemorate Christ's triumphal entrance into Jerusalem to complete his work as our Messiah: to suffer, die, and rise again.
It's the celebration of our Lord's paschal mystery after Lent's five weeks of preparation through works of charity and self-sacrifice.
At that time, a huge crowd assembled put their cloaks or branches on the ground, and waved palm branches, acclaiming Christ as the King of Israel, the Son of David.
On today's solemn Mass, there is a special entrance at the beginning. We wave our palm branches and sing as the priest enters the church: Hosanna to the Son of David, the King of Israel. 

The gospel reading presents the entrance into Jerusalem (Matt 21:1-11; Mark 11:1-10; John 12:12-16; Luke 19:28-40). The priest, wearing red vestments, explains the solemnity of Holy Week and invites us to take full part in the celebration.
The palms distributed at Mass are blessed, so they are sacramentals.
We unite with Christ in his Sorrowful Passion and suffering on the cross, so may we share his resurrection and new, perfected life in Heaven with the Communion of Saints.
Ave Maria!
Jesus, I Trust In You!
+ Mikel A. | RosaryNetwork.com, New York