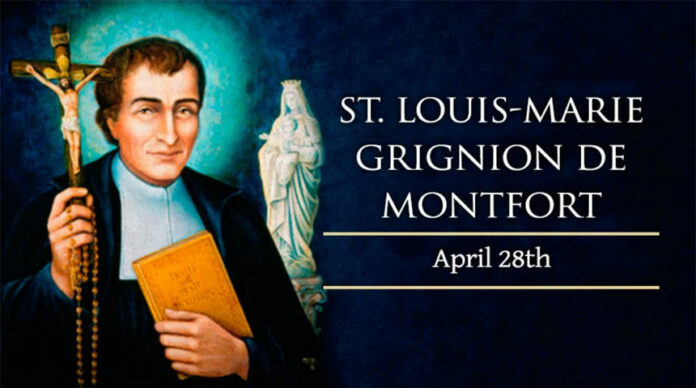 • April 28, 2023, Today's Rosary on YouTube | Daily broadcast at 7:30 pm ET
• Audio Podcast of this Rosary is Available Here Now!
Friends of the Rosary:
Today, April 28th, the Universal Church celebrates the memorial day of Louis Marie Grignion de Montfort, a 17th-century saint who is revered for his intense devotion to the Blessed Virgin Mary, especially through the Holy Rosary.
"Mary is the safest, easiest, shortest, and most perfect way of approaching Jesus," he wrote.
In this spirituality, he preached the total consecration to Jesus through Mary and the fidelity to the Cross. He wrote: "The Incarnation of the Word is for him the absolute central reality."
Born in Montfort, Brittany (France), in 1673, this priest and poet took the name Marie at his confirmation.
St. Louis Marie Grignion de Montfort formulated the prayer of entrustment to Our Lady, "Totus Tuus ego sum," which means, "I am all yours." The late Pope John Paul II took the phrase "Totus Tuus" as his episcopal motto.
Another motto of this saint was "God Alone", repeated over 150 times in his writings.

A gifted preacher, he often drew crowds of thousands to hear his sermons in which he encouraged frequent communion (not the custom then) and devotion to Mary.
But he also met with opposition, especially from the Jansenists, a heretical movement within the Church that believed in absolute Predestination, in which only a chosen few are saved, and the rest damned. Much of France was influenced by Jansenism, including many bishops, who banished St. Loius Marie from preaching in their dioceses. He was even poisoned by Jansenists in La Rochelle, but survived, though he suffered ill health after.
While recuperating from the effects of the poisoning, he wrote the masterpiece of Marian piety, "True Devotion to the Blessed Virgin," which correctly prophesied it would be hidden by the devil for a time. His seminal work was discovered 200 years after his death. The book became a classic explanation of Marian's devotion and the basis for the consecration to Mary.
Louis Marie de Montfort also wrote another masterpiece, The Secret of the Rosary. [PDF, free Download]
He founded the Missionaries of the Company of Mary (for priests and brothers) and the Daughters of Divine Wisdom, who cared especially for the sick in hospitals and the education of poor girls.
On this special day, we will celebrate at 7:00 pm in St. Catherine of Siena Parish, in Greenwich, Connecticut, a Holy Mass for the eternal rest of María Blanca Gonzalez de Amigot, Blanki.
At 6:30 pm it will take place the Holy Rosary – today the Sorrowful Mysteries.
María Blanca went to the Father on October 28, 2021, eighteen months ago today.
The Amigot Gonzalez family invites everyone to the event. 
Ave Maria!
Jesus, I Trust In You!
St. Louis Marie Grignion de Montfort, Pray for Us!
+ Mikel A. | RosaryNetwork.com, New York