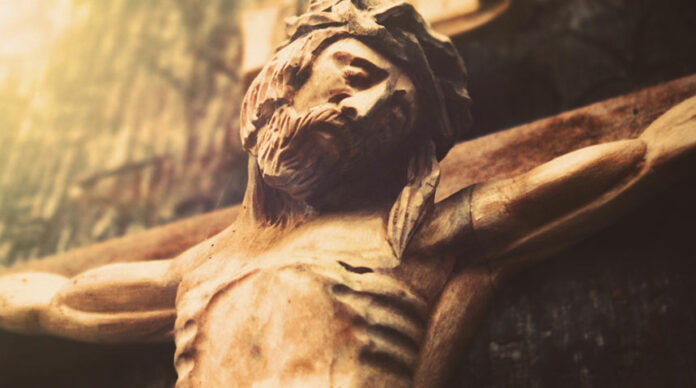 • April 7, 2023, Today's Rosary on YouTube | Daily broadcast at 7:30 pm ET
• Audio Podcast of this Rosary is Available Here Now!
Friends of the Rosary:
Today, the faithful mourn the death of Christ Jesus. We observe the "Celebration of the Lord's Passion."
It's a sad, solemn day of mourning, spent in fasting, abstinence, and prayer. We try to find ways to slow down and practice contemplation by participating in the devotions and liturgy, while we restrict ourselves from outside entertainment, TV, music, and social media, as a way to avoid distractions from the spirit of the day.
Families can gather to pray the rosary, Stations of the Cross, the Divine Mercy chaplet, and meditative reading and prayers on the passion of Christ.
The title for this day varies in different parts of the world: "Holy Friday" for Latin and Spanish nations; "Good Friday" for Anglo and Dutch countries as a variation of the term "God's Friday."
According to the Church's tradition, during the liturgy, the sacraments are not celebrated on Holy Friday nor Holy Saturday.
The altar is completely bare, with no clothes, candles, or cross.
The service is divided into three parts: Liturgy of the Word, Veneration of the Cross, and Holy Communion.
The liturgy starts with the priests and deacons going to the altar and prostrating themselves in silent prayer. We hear the Suffering Servant passages from Isaiah (52:13-53:12), Psalm 30, "Father, I put my life in your hands," the Epistle to the Hebrews, 4:14-16; 5:7-9, and the Gospel Reading is the Passion of St. John.
Ten intercessions conclude the Liturgy of the Word.
For the Church
For the Pope
For the clergy and laity of the Church
For those preparing for baptism
For the unity of Christians
For the Jewish people
For those who do not believe in Christ
For those who do not believe in God
For all in public office
For those in special need
In the second part of the liturgy we venerate and kiss the wooden cross "on which hung the Savior of the world."
In part three, the Blessed Sacrament is brought to the altar from the place of reposition. The Our Father and the Ecce Agnus Dei ("This is the Lamb of God") are recited. The congregation receives Holy Communion.
During this Holy Friday, we take time to look at a crucifix, whether in our church or home, thinking of its significance. On the cross is the savior of the world. Christ died so we might be forgiven and set free to live. The love of Christ is shown on the cross, to set us free, enjoying the freedom of being a child of God.
By the sake of his sorrowful passion, have mercy on us and on the whole world.
We adore you, O Christ, and we praise you. For by your Holy Cross, you have set us free.
Ave Maria!
Jesus, I Trust In You!
+ Mikel A. | RosaryNetwork.com, New York