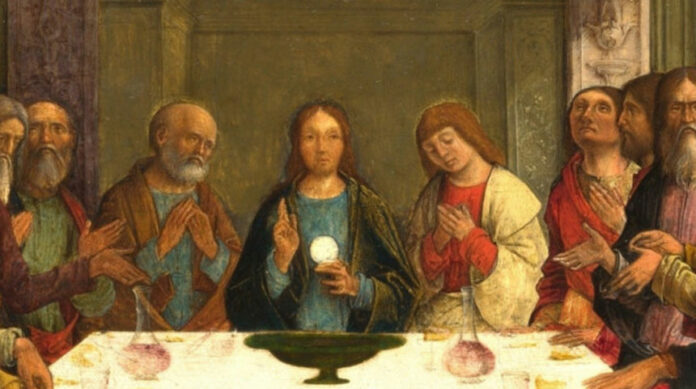 • April 6, 2023, Today's Rosary on YouTube | Daily broadcast at 7:30 pm ET
• Audio Podcast of this Rosary is Available Here Now!
Friends of the Rosary:
Today is Holy Thursday of the Sacred Triduum, commemorating the Last Supper of Jesus Christ with his apostles.
During the evening's Mass of the Lord's Supper, we observe the institution of the priesthood and Holy Eucharist, the mystery of the Body and Blood of Christ Jesus.
The Mass includes the Washing of the Feet. With this gesture, we imitate Christ's humility.
We also recall the Agony in the Garden, and the arrest and imprisonment of Jesus.
The altar is stripped bare, crosses are removed or covered.
After the Communion Prayer, the Holy Eucharist is carried in procession through Church and transferred into a side chapel. The hymn Pange Lingua is usually sung at this time.
Most churches are open for silent adoration, as there is a tradition, particularly in big cities with many parishes, to try and visit seven churches and their altar of repose during this evening.
Ave Maria!
Jesus, I Trust In You!
+ Mikel A. | RosaryNetwork.com, New York