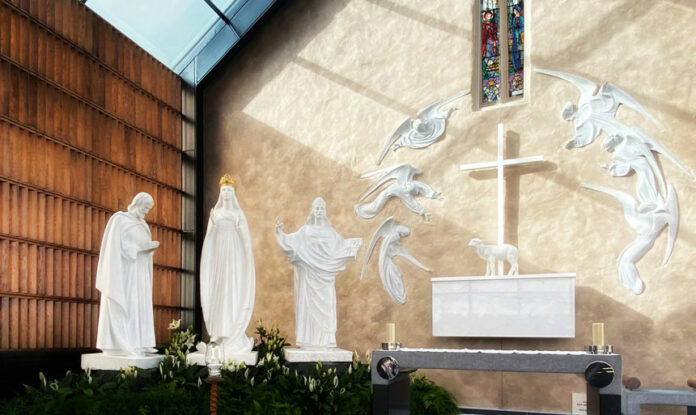 • August 17, 2023, Today's Rosary on YouTube | Daily broadcast at 7:30 pm ET
• Audio Podcast of this Rosary is Available Here Now!
Friends of the Rosary:
Today, along with the Irish people, we commemorate the Memorial of Our Lady of Knock.
We celebrate the apparition of Our Lady, St. Joseph, St. John the Evangelist, the Lamb, and a Cross on an altar on the wall of the parish church in the village of Knock in County Mayo in Ireland, on August 21, 1879.
The apparition was described as follows: "Our Lady was wearing a large, brilliant crown and clothed in white garments. On her right was Saint Joseph, his head inclined toward her and on her left Saint John the Evangelist. To the left of Saint John was an altar on which stood a cross and a lamb. Standing only a few feet off the ground, the Blessed Virgin wore a white cloak and was described by witnesses as being incredibly beautiful. She wore a bright golden crown, and appeared to be praying with her eyes looking toward heaven with her arms bent in front of her with her palms facing inward."
Fifteen parishioners witnessed the apparition for two hours as they recited the Rosary.
Although it was daylight when the apparition began, the weather turned for the worse and it began to rain heavily. However, the area around the apparition appeared unaffected, as the ground remained dry as long as the vision lasted.
Our Lady did not speak, and the gable of the church where the manifestation was made was covered with a cloud of light.
Saint Joseph also wore white robes and stood on the Virgin's right. He inclined his head respectfully toward the Blessed Virgin. Saint John the Evangelist wore a miter and appeared to be preaching as he held a book in his left hand.
For over 140 years, the Knock Shrine has welcomed pilgrims and visitors to this sacred place, sanctified by Mary's apparition.
The Knock Shrine has been officially recognized as an international Eucharistic and Marian Shrine by Pope Francis, through the Pontifical Council for New Evangelization in March 2021.
The Rosary comprises the main portion of the devotion. The shrine is therefore appropriately called the Rosary Shrine.
Devotion to St. Joseph has always emphasized his role as the protector of the Holy Family.
Unique to the apparition is the presence of the Lamb of God upon the altar, a visual presentation of the gift and mystery of the Eucharist.
St. John the Evangelist stands between Our Lady and the altar and Lamb. It is his Gospel that refers to Jesus as the Lamb of God. He appears to be preaching on the Eucharistic altar, Cross, and Lamb that is at the very center of the apparition.
Ave Maria!
Jesus, I Trust In You!
Our Lady of Knock, Pray for Us!
To Jesus through Mary!
+ Mikel A. | RosaryNetwork.com, New York