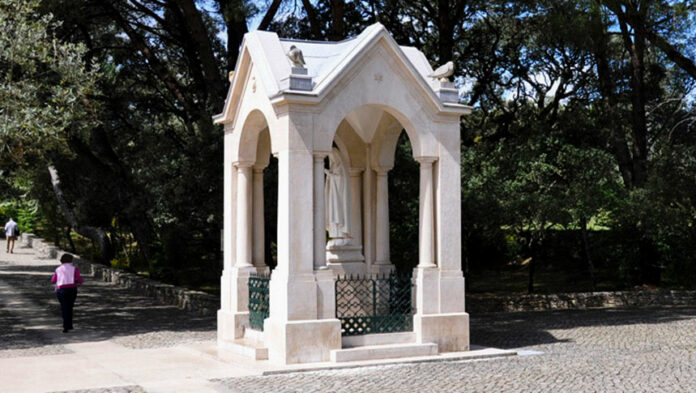 • August 19, 2023, Today's Rosary on YouTube | Daily broadcast at 7:30 pm ET
• Audio Podcast of this Rosary is Available Here Now!
Friends of the Rosary:
On August 19th, 1917, the Virgen Mary appeared at Valinhos, distant about half a mile from the Village of Aljustrel and from the Cova de Iria, in Fatima. That was the fourth apparition.
On August 13th, the three shepherds were arrested by the Administrator of Ourém, the district in which Fátima was located. This Administrator or Mayor, Artur Santos, was an apostate Catholic and high Mason.
The Blessed Mother asked Jacinta, Francisco, and Lucia to return to the Cova da Iria on the 13th and to continue praying the Rosary every day. She promised that in the last month, in October, she would perform a huge miracle.
And then looking very sad, she concluded: "Pray, pray very much, and make sacrifices for sinners; for many souls go to Hell because there is no one to sacrifice themselves and to pray for them".
The monument commemorating this apparition [see photo above] was built by Hungarian Catholics and inaugurated on August 12, 1956. The white statue of Our Lady of Fatima is the work of Sculptor Maria Amélia Carvalheira da Silva.
Ave Maria!
Jesus, I Trust In You!
Our Lady of Fatima, Pray for Us!
To Jesus through Mary!
+ Mikel A. | RosaryNetwork.com, New York