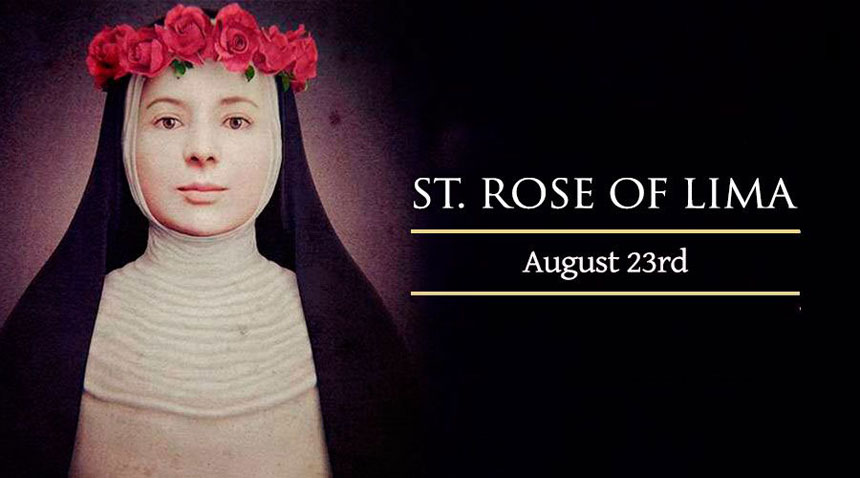 • August 23, 2021, Holy Rosary Today 7:30 pm ET, YouTube.com/TheRosaryNetwork
• Audio Podcast available by 6:00 pm ET
Friends of the Rosary:
Today, August 23, Catholics honor the first saint of the Americas, St. Rose of Lima. Isabel Flores de Oliva was born in Lima, Peru, in 1586, and she died at the age of 31, praying, "Lord, increase my sufferings, and with them increase Your love in my heart."
Inspired by the example of St. Catherine of Siena, she chose to consecrate her life to God. She joined the Third Order of St. Dominic in Lima.
Hers was a life heroic in virtue, prayer, and penance. She devoted herself to works of active charity while living in extreme austerity.
St. Rose of Lima suffered repeated attacks from the devil, and from her family, calumnies. In reward, she experienced heavenly joys, comforted by her holy guardian angel and of the Blessed Virgin Mary.
Ave Maria!
Jesus, I Trust In You!
St. Rose of Lima, Pray for Us!
+ Mikel A. | TheRosaryNetwork.org, New York
—-
Her shrine, alongside those of her friends, St. Martin de Porres and St. John Masias, is located inside the convent of St. Dominic in Lima.