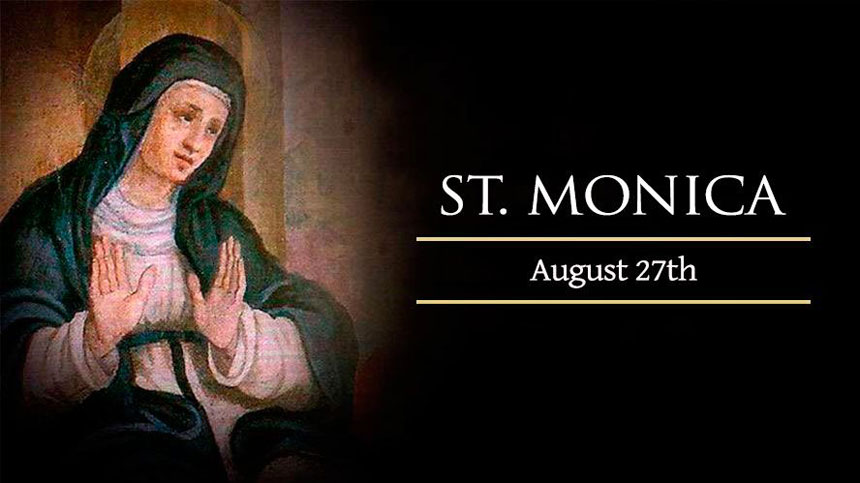 • August 27, 2021, Holy Rosary Today 7:30 pm ET, YouTube.com/TheRosaryNetwork
• Audio Podcast available by 6:00 pm ET
Friends of the Rosary:
We honor today St. Monica, a fourth-century saint born in the north of Africa, who quietly proved the power of intense prayer, combined with the virtues of patience and kindness. It was a lifework effort.
Through tears and resilient prayer, she gave to the Church of Jesus Christ her son Augustine, as this Doctor of the Church explained in his famous book Confessions.
St. Monica also obtained the conversion of his pagan husband Patricius, a man of a very irascible nature.
Additionally, we also celebrate today the feast of the Seven Joys of the Blessed Virgin Mary, also known as The Franciscan Crown Rosary, which dates back to the beginning of the fifteen century.
The Joys of Mary remembered in the devotion are these:
The Annunciation of the Angel to Mary
The Visitation of Mary to Elizabeth
The Nativity of Our Lord
The Adoration of the Magi
The Finding of Jesus in the Temple
The Resurrection of Our Lord
and The Crowning of Our Lady, Mary, in Heaven as Queen
Ave Maria!
Jesus, I Trust In You!
St. Monica, Pray for Us!
+ Mikel A. | TheRosaryNetwork.org, New York
—-