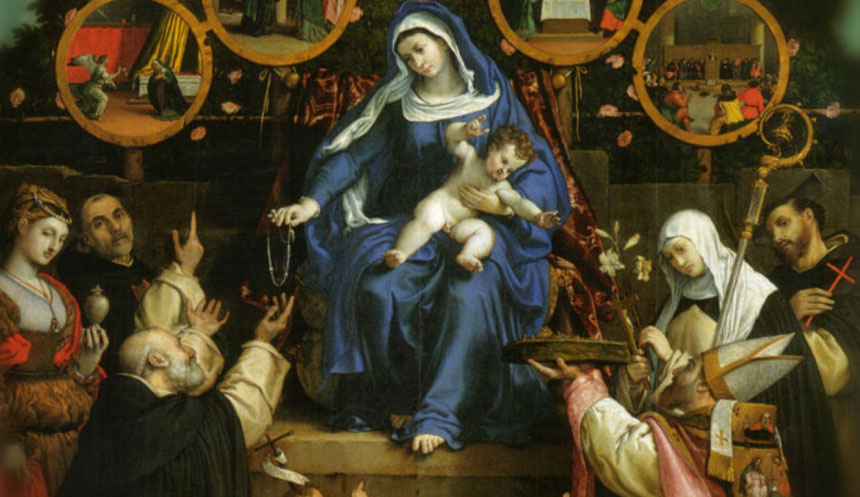 • August 8, 2021, Holy Rosary Today 7:30 pm ET, YouTube.com/TheRosaryNetwork
• Audio Podcast available by 6:00 pm ET
Friends of the Rosary:
One of the great saints in Heaven too often forgotten is St. Dominic of Guzman. We celebrate today, August 8th, his feast day.
This Spanish priest of the XII century founded the Order of Friar Preachers, the Dominicans, and he received the Holy Rosary from the Virgin Mary Herself, as many glorious saints and popes stated, including Louis Mary de Montfort.
The Rosary — called at that time the Marian Psalter — had an immediate effect on defeating heresies and prompting conversions. Six centuries later, in Fatima, Portugal, the Holy Mary would identify Herself as Our Lady of the Rosary.
The graces and miracles — historical events as Lepanto and private ones — have been countless across history.
In the XX century, St John Paul II added the Luminous Mysteries and St Faustina Kowalska started the Divine Mercy Chaplet, which is now prayed over the Rosary.
We invoke today St Dominic of Guzman, founder of the Rosary.
Ave Maria!
Jesus, I Trust In You!
St. Dominic of Guzman Pray for Us!
+ Mikel A. | TheRosaryNetwork.org, New York