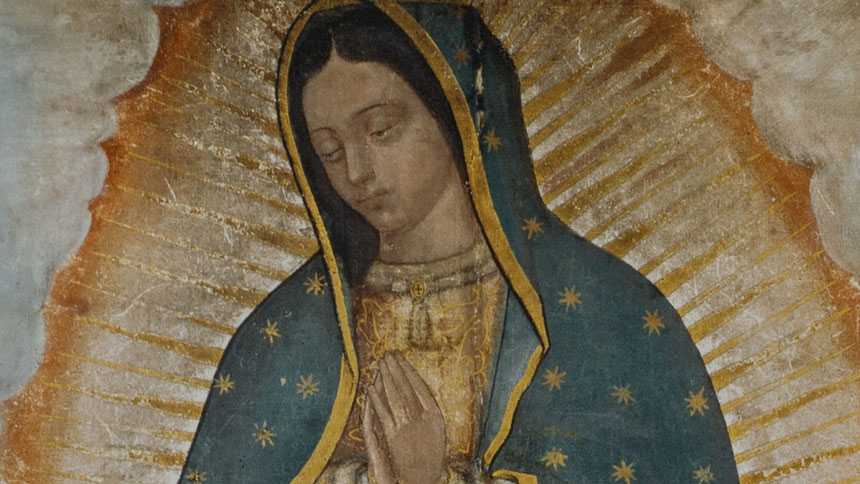 • December 12, 2021, Today's Holy Rosary, YouTube.com/TheRosaryNetwork
• Audio Podcast of this Rosary
• In Memoriam of Maria Blanca: Testimonials
Friends of the Rosary:
Today, the third Sunday of Advent, called Gaudete, meaning "Rejoice", the Universal Church emphasizes the joy that should be in our hearts — the joy of Christians and the birth of the Savior.
Also, today is the feast of Our Lady of Guadalupe. The Virgin Mary appeared to an Indian convert named Juan Diego on December 9, 1531. She left a marvelous portrait of herself on the mantle of Juan Diego. This miraculous image has proved to be ageless and is kept in the shrine built in her honor, the Basilica of Our Lady of Guadalupe, in Mexico City.
The Holy Virgin said to him: "Hear me and understand well, my son the least, that nothing should frighten or grieve you. Let not your heart be disturbed. Do not fear that sickness, nor any other sickness or anguish. Am I not here, who is your Mother? Are you not under my protection? Am I not your health? Are you not happily within my fold? What else do you wish? Do not grieve nor be disturbed by anything."
A church was built on the spot of the apparition, as Mary had requested, and eight million people converted to Catholicism in a short period of time upon hearing of or viewing the image of Our Lady.
Ave Maria!
Jesus, I Trust In You!
Our Lady of Guadalupe, Pray for Us!
+ Mikel A. | TheRosaryNetwork.org, New York