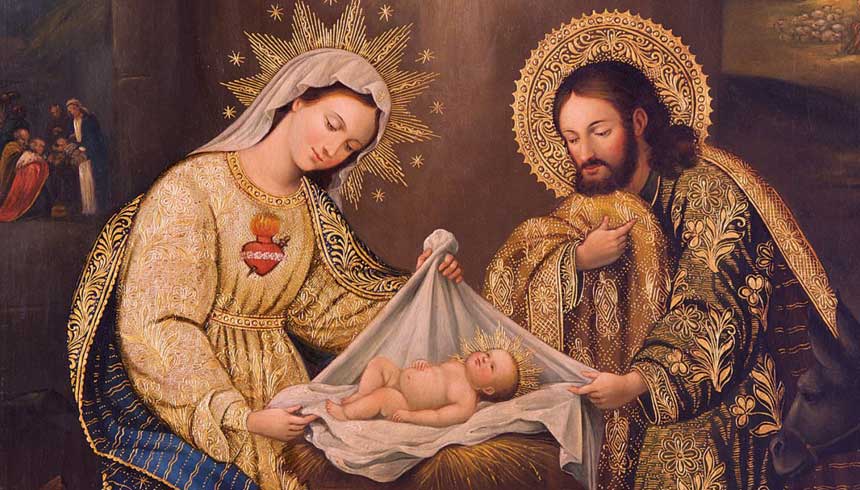 • Dec 25, 2020, Holy Rosary Today 7:30 pm ET, YouTube.com/TheRosaryNetwork
• Audio Podcast available by 6:00 pm ET
• Christmas Day's Holy Rosary: 12:00 Noon ET via Zoom
Friends of the Rosary,
We rejoice today by observing the Solemnity of the Nativity of the Lord—the Word Incarnate, the Son of God dwelling among us and assuming our human nature in all but sin. (Jn 1:1-5, 9-14)
Christ, according to His human nature, is born in Bethlehem of the House of David of the Virgin Mary, and, according to His divine nature, is conceived of the Spirit of holiness, the Son of God and the Second Person of the Trinity.
The Father sent his Son to be the expiation for our sins and at the same time to show us the merciful love of God. Jesus is the Lamb of God who takes away the sins of the world.
Our sick and fallen nature needed to be healed. We needed the light, as captives await a Savior.
"For God so loved the world that he gave his only Son, that whoever believes in him should not perish but have eternal life." (John 3:16).
The Word became flesh to be our model of holiness. "I am the way, and the truth, and the life; no one comes to the Father, but by me." (John 14:6)
Ave Maria!
Merry Christmas!
[Written by Mikel A | The Rosary Network, New York]
___