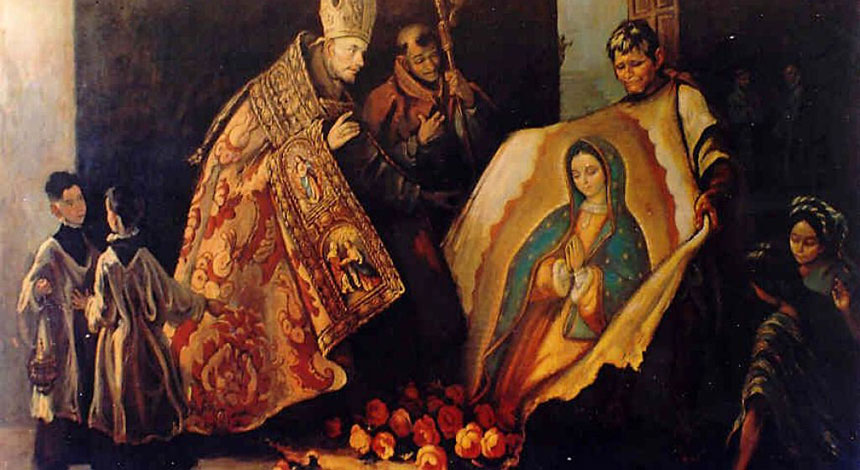 • December 9, 2020, Holy Rosary Today 7:30 pm ET, YouTube.com/TheRosaryNetwork
• Audio Podcast available by 6:00 pm ET
Friends of the Rosary,
We celebrate today the memorial of St. Juan Diego, an Indian convert to whom the Virgin Mary appeared at Tepeyac, the outskirts of what is now Mexico City. This event happened on December 9, 1531.
Our Lady asked him to tell the Bishop that she desired a shrine to manifest her love for all mankind. The Bishop did not believe Juan Diego and asked for a sign to prove that the apparition was true. On December 12, Juan Diego returned to Tepeyac. Here, the Blessed Mother told him to climb the hill and to pick the flowers that he would find in bloom. Although it was wintertime, he found roses blooming. He gathered the flowers and took them to Our Lady who carefully placed them in his mantle and told him to take them to the Bishop as "proof". When he opened his mantle, the flowers fell on the ground and an image of the Blessed Mother, dressed with native features, remained impressed.
The miraculous image is preserved in the Basilica of Our Lady of Guadalupe, Patroness of the Americas.
Juan Diego started a life dedicated to prayer and charity. He would become the first Native American saint. St John Paul II canonized him in 1990.
Ave Maria!
[Written by Mikel A | The Rosary Network, New York]
___