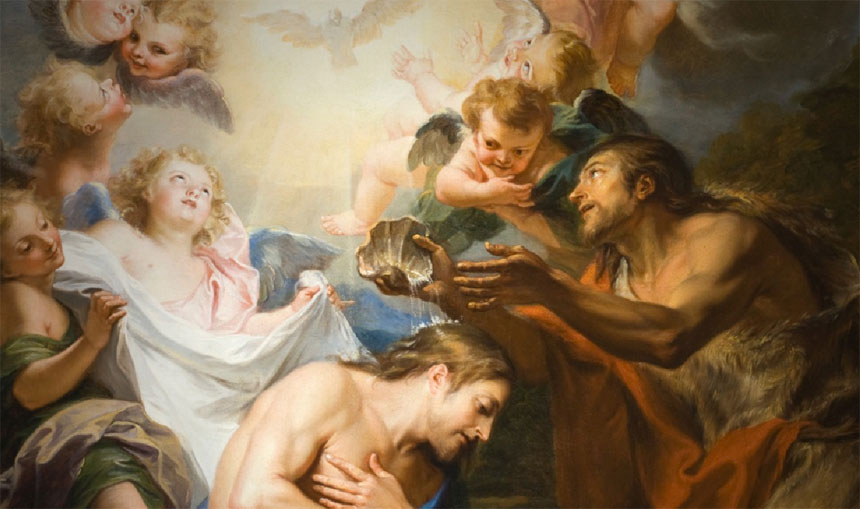 • January 10, 2021, Holy Rosary Today 7:30pm ET, YouTube.com/TheRosaryNetwork
• Audio Podcast available by 6:00 pm ET
Friends of the Rosary,
We celebrate today the Baptism of Jesus Christ—the second epiphany, or manifestation, of the Lord, after His human birth. This feast—on the day nineteen—brings to an end the liturgical season of Christmas.
In the mystery of Baptism, the entire Trinity intervenes. We see the Trinitarian nature of God. The Father proclaimed Jesus the "Beloved Son", and the Holy Spirit descends upon Him in the form of a dove (Mk 1:7-11). The Heavens are opened—the same way that at our baptism heaven is opened to us.
By this event, Christ manifests His humility as takes upon the sins of the whole world, as the Lamb of God.
He offers His life to the redemption and salvation of mankind. Jesus Christ starts a new creation. He is the second man, the new Adam that comes to repair the first Adam's guilt. (1 COR 15:45-47)
Ave Maria!
Merry Christmas!
Happy New Year in Mary and Joseph!
[Written by Mikel A | TheRosaryNetwork.org, New York]