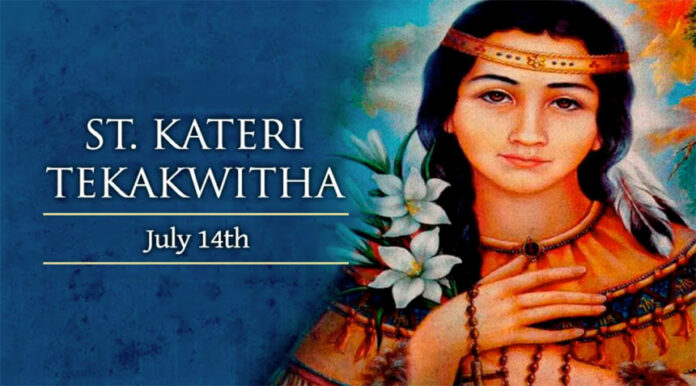 • July 14, 2023, Today's Rosary on YouTube | Daily broadcast at 7:30 pm ET
• Audio Podcast of this Rosary is Available Here Now!
Friends of the Rosary:
Every July 14, the Catholic Church in the U.S. celebrates the feast day of St. Kateri Tekakwitha, the first Native American to be canonized.
Known as the "Lily of the Mohawks," Kateri led a life characterized by virtue and holiness, despite facing numerous challenges and opposition within her tribe.
Kateri was born in 1656 in Auriesville, New York, to an Algonquin woman who embraced Christianity and a Mohawk chief who adhered to pagan beliefs.
Tragedy struck when she was a child, as a smallpox epidemic swept through her tribe, claiming the lives of both her parents. Kateri survived but was left with visible facial scars and impaired eyesight.
Following the death of her parents, her uncle, who had assumed leadership of the tribe, took her under his care. Meanwhile, her aunts began arranging a marriage for her at a young age.
In 1667, during a visit by three Jesuit priests to her tribe, they spoke to Kateri about Christ while staying in her uncle's tent. Although she did not explicitly request baptism, she developed an intense belief in Jesus. She also recognized her calling to dedicate herself as a consecrated virgin, forging an intimate bond with God.
Despite facing opposition from her tribe, who mocked her faith and ostracized her for refusing the arranged marriage, Kateri tenaciously held onto her beliefs. At the age of 18, when Father Jacques de Lamberville returned to the Mohawk village, she expressed her desire to be baptized.
Recognizing the increasingly perilous environment within the Mohawk village, plagued by violence and debauchery, Kateri decided to flee to the town of Caughnawaga in Quebec, near Montreal. There, she deepened her holiness and devotion to the Blessed Sacrament.
In Caughnawaga, Kateri spent the final years of her relatively short life practicing rigorous penance and maintaining a constant state of prayer. She attained a profound mystical union with God, and numerous miracles were attributed to her even during her lifetime.
Kateri passed away on April 17, 1680, at the age of 24. Witnesses reported that within minutes of her death, the smallpox scars on her face miraculously vanished, and she radiated a remarkable beauty.
Devotion to Kateri emerged immediately after her demise, and her enshrined body in Caughnawaga attracts many pilgrims each year. Pope John Paul II beatified her in 1980, and she was later canonized by Pope Benedict XVI on October 21, 2012.
Ave Maria!
Jesus, I Trust In You!
St. Kateri Tekakwitha, Pray for Us!
To Jesus through Mary!
+ Mikel A. | RosaryNetwork.com, New York