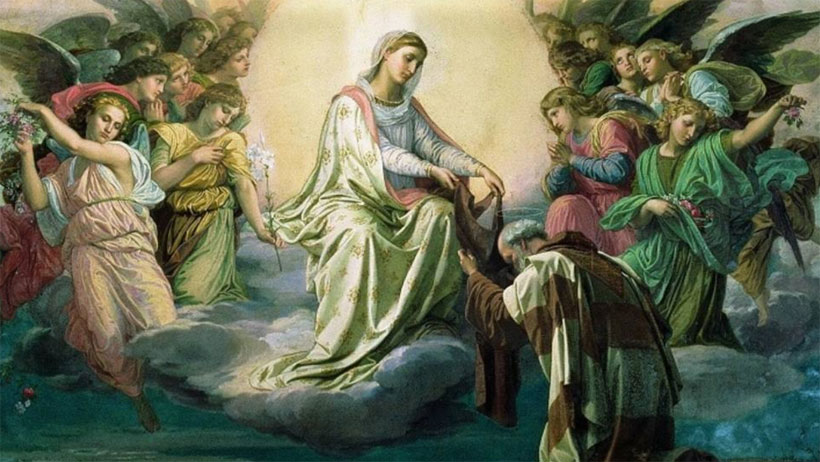 The Rosary Network | New York
> Today's Holy Rosary in YouTube
Friends of the Rosary,
Today, July 16th is the liturgical feast of Our Lady of Mount Carmel.
In the 13th century in Palestine, the Virgin Mary appeared to an Englishman called Saint Simon Stock–a prior of the Carmelite Order–and gave him the Brown Scapular and the Carmelite brown habit.
The Brown Scapular, a medal that shows thanksgiving to Mary, has been a popular devotion since the 15th century. Our Mother promised to protect anyone who wears the Scapular.
In Catholic-majority countries, there has been a particular veneration to Our Lady of Mount Carmel–la Virgen del Carmen, in Spanish. In coastal towns of Spain, la Virgen del Carmen is associated with Stella Maris, Star of the Sea.
The visionaries of Fatima reported that Our Lady of Mount Carmel was among the titles claimed by Mary.
Four decades later, in the sixties, the Blessed Virgin of Mount Carmel appeared in San Sebastian de Garabandal, Spain.
In Garabandal, the Virgin Mary asked to lead good lives, make many sacrifices, give much importance to the Eucharist, and visit frequently the Blessed Sacrament.
[Written by Mikel A | TheRosaryNetwork.org]
Resources:
• Esto dijo Sor Lucía de Fátima sobre escapulario de la Virgen del Carmen y el Rosario
• Claves para utilizar el Escapulario
• La relación de la Virgen del Carmen con Stella Maris