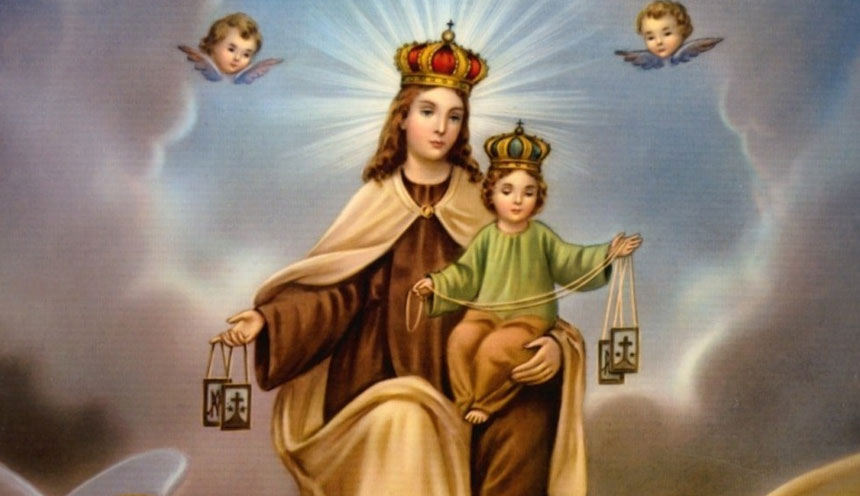 • July 16, 2021, Today's Holy Rosary on YouTube — Daily broadcast at 7:30 pm ET
• Audio Podcast of this Rosary Available Here Now!
Friends of the Rosary: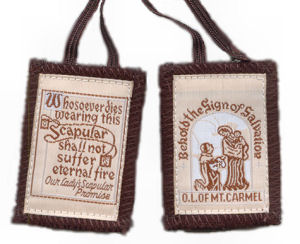 Today, July 16th is the Memorial day of Our Lady of Mount Carmel, Nuestra Señora del Carmen, in Spanish.
In the 13th century, an order of hermits, called "Brothers of Our Lady of Mount Carmel," lived on Mount Carmel, near the Fountain of Elijah, in northern Israel.
Its leader St. Simon Stock, received a visit from the Blessed Mother, giving him a Brown Scapular, and telling him to promote devotion to it.
The Scapular symbolized Mary's special protection and called the wearers to consecrate themselves to her in a special way.
Many popes and saints have strongly recommended wearing the Brown Scapular. It stands for the decision to:
– Follow Jesus like Mary:
– Be open to God and to his will.
– Be guided by faith, hope, and love.
– To pray at all times
– To discover God present in all that happens around us.
For centuries the Carmelite Orden was seen as specially related to Mary, championing the mystery of her Immaculate Conception. Saint Teresa of Avila and Saint John of the Cross founded the Discalced Carmelite order, and Saint Thérèse of the Child Jesus believed that Mary cured her of illness.
Ave Maria!
Jesus, I Trust In You!
Our Lady of Mount Carmel, Pray for Us!
+ Mikel A. | RosaryNetwork.com, New York
[ Second Year Anniversary | In the Memory of María Blanca ]