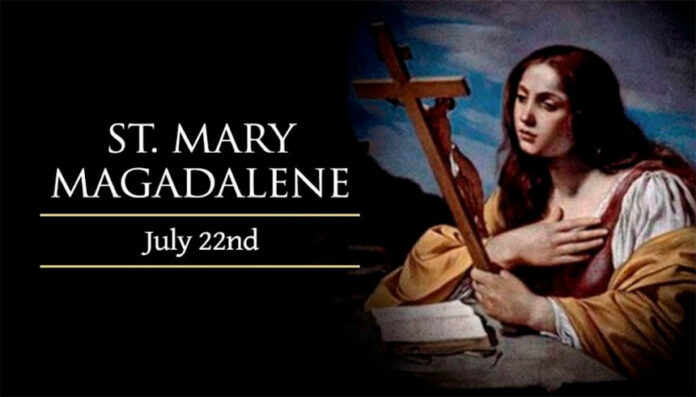 • July 22, 2023, Today's Rosary on YouTube | Daily broadcast at 7:30 pm ET
• Audio Podcast of this Rosary is Available Here Now!
Friends of the Rosary:
Today is the Feast of St. Mary Magdalene, the "Apostle to the Apostles", eyewitness to the Risen Christ, and the first to announce the good news of the Resurrection of the Lord before the disciples. "I have seen the Lord."
She stood with Mary at the foot of the Cross and had been by the side of Mary during these agonizing hours.
Mary Magdalene was from Magdala, a small fishing town on the Sea of Galilee, and she was known to be a "great sinner," a woman of the streets who heard Jesus speak of the mercy and forgiveness of God and changed her life completely.
Our Lord had a special consideration and mercy for this woman, who looked for Him with anguish, suffering, and lacrimas humilitatis, as St. Anselm wrote.
She has always been the example of great love and great forgiveness, one of those close to Jesus who grasped the truth of God's love for human beings and spent her life bearing witness to that love.
Mary Magdalene is a good lesson for every disciple of Jesus: do not seek human securities and worldly honors, but faith in the Living and Risen Christ.
Ave Maria!
Jesus, I Trust In You!
St. Mary Magdalene, Pray for Us!
To Jesus through Mary!
+ Mikel A. | RosaryNetwork.com, New York