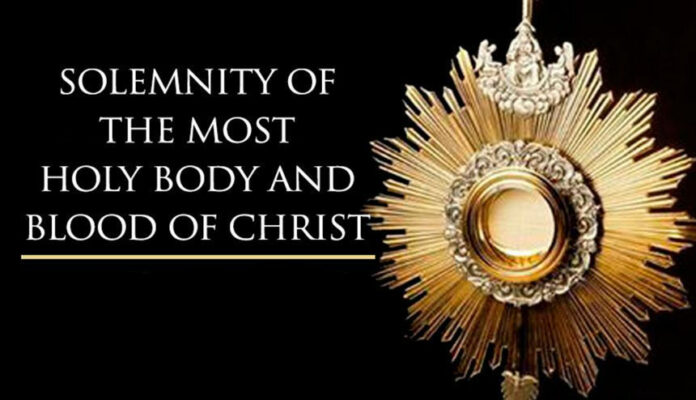 • June 11, 2023, Today's Rosary on YouTube | Daily broadcast at 7:30 pm ET
• Audio Podcast of this Rosary is Available Here Now!
Friends of the Rosary:
Today, 60+ days after Easter Sunday, we celebrate the Solemnity of Corpus Christi (Body and Blood of Christ), the commemoration of the institution of that sacrament—the fifth Luminous mystery. In many parishes, there is an Eucharist Procession today.
This Solemnity is a commemoration of the extraordinary act of love for us that our Divine Lord performed on the night before he died. He was the sacrificial victim that won eternal life for men.
As St. Paul wrote in this first Epistle to the Corinthians, which we read today Sunday (1 Cor 10:16-17), we Christians take part in the real sacrifice of the body and blood of Christ, in communion with God.
As a sacrament, his "flesh" and "blood" are heavenly food, the Bread of Life (Jn 6:51-58). Through his divine power, he left to his Church, to his followers, the power to re-present again and again the sacrifice of his human nature.
As we read in the Gospel, not only the incredulous Jews, but even many of his disciples drew back. Jesus said to the twelve: "Will you too go away?" Simon Peter answered him, "Lord to whom shall we go? You have the words of eternal life."

With the feast of Corpus Christi, the Catholic Church tries to proclaim and increase the faith of believers in the real presence of Jesus Christ in the Blessed Sacrament.
Today's Mass was composed by St. Thomas Aquinas upon the request of Pope Urban IV in the year 1264. It's a classic piece of liturgical work.
Ave Maria!
Jesus, I Trust In You!
+ Mikel A. | RosaryNetwork.com, New York