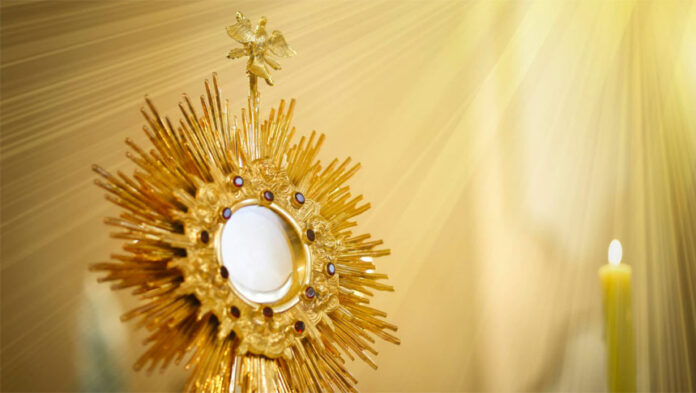 • June 10, 2023, Today's Rosary on YouTube | Daily broadcast at 7:30 pm ET
• Audio Podcast of this Rosary is Available Here Now!
Friends of the Rosary:
While we prepare for the Solemnity of Corpus Christi, tomorrow Sunday, June 11, we read in the Old Testament (Deuteronomy 8:2-3; 14-16) how God provided a special food called "manna" to the Chosen People in their journey from Egypt to Palestine through the vast desert of Sinai.
This manna, as well as water that burst forth from the rocks at the command of Moses, nourished and sustained the Jews during their forty years of journeying in the desert.
This miraculous food from Heaven was a symbol that showed how our divine Lord sustained and nourished them spiritually in their walk toward the eternal and promised land.
Lord Jesus himself referred to the "manna" given by God to their ancestors in the desert and revealed that He is now the true bread from heaven (Jn 6:31ff).
Today, we Christians rejoice by taking part in the Holy Mass, the real sacrifice of the body and blood of Christ, and being in communion with God.
Ave Maria!
Jesus, I Trust In You!
+ Mikel A. | RosaryNetwork.com, New York