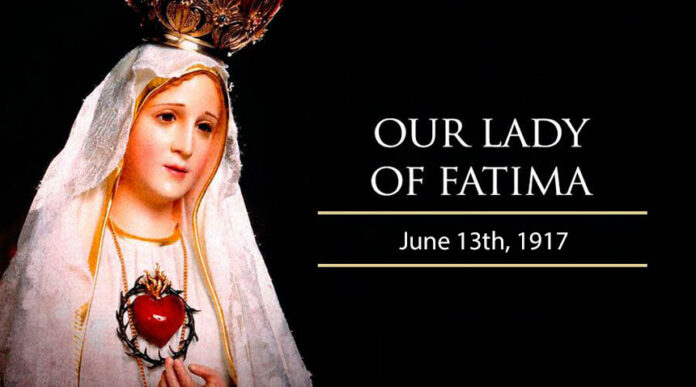 • June 13, 2023, Today's Rosary on YouTube | Daily broadcast at 7:30 pm ET
• Audio Podcast of this Rosary is Available Here Now!
Friends of the Rosary:
Today, on the feast day of Saint Anthony of Padua, we also celebrate the Second Apparition of the Virgin Mary in Fatima, Portugal, in June 13, 1917.
In 1208, the Most Holy Virgin Mary appeared to St. Dominic and gave him the Rosary to achieve victory over a raging heresy.
Seven centuries later, Our Lady of Fatima, asked the three shepherds children to recite the Rosary daily. She added a prayer for poor sinners after each one of the mysteries:
"O my Jesus, forgive us our sins, save us from the fire of hell. Take all souls to heaven, especially those who are most in need."
In the apparition of June 13, Our Lady spoke for the first time about her Immaculate Heart. She said to Lucia: "Jesus wishes you to make me known and loved on earth. He wishes also for you to establish devotion in the world to my Immaculate Heart."
"I will be with you always, and my Immaculate Heart will be your comfort and the way which will lead you to God."
Years later, Lucia saw in a vision that in front of the palm of Our Lady's right hand was a heart encircled surrounded with thorns with which ungrateful men pierce and offend Her at every moment by blasphemies, ingratitude, and sins.
"In the end, my Immaculate Heart will triumph."
To Jesus through Mary!
Ave Maria!
Jesus, I Trust In You!
Our Lady of Fatima, Pray for Us!
St. Anthony of Padua, Pray for Us!
+ Mikel A. | RosaryNetwork.com, New York