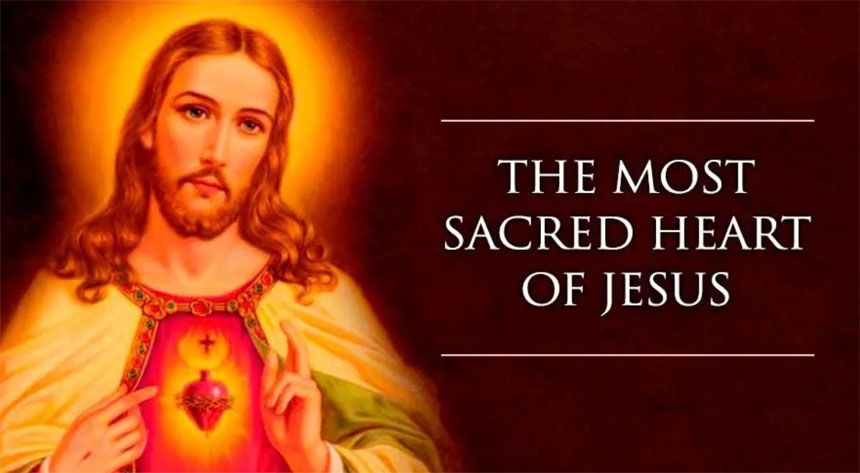 • June 24, 2021, Today's Holy Rosary on YouTube — Daily broadcast at 7:30 pm ET
• Audio Podcast of this Rosary Available Here Now!
Friends of the Rosary:
Today, while we celebrate the end of the abortion at federal level, we observe the Solemnity of the Sacred Heart of Jesus, a devotion that symbolizes the Son of God's boundless and burning love for humans.
Throughout history, saints and scholars have pointed to the Sacred Heart as the fountain of love poured into our lives.
In the late 17th century, the devotion to the Sacred Heart was extended following the revelations to St. Marguerite Marie Alacoque.
Jesus Christ promised the French nun Alacoque that "all those who rendered this honor to His Heart would be endowed with an abundance of heavenly graces." She also wrote: "Jesus disclosed to me the marvels of his Love and the inexplicable secrets of His Sacred Heart."

Jesus promised that, in response to those who consecrate themselves and make reparations to His Sacred Heart, that:
He will give them all the graces necessary in their state of life.
He will establish peace in their homes.
He will comfort them in all their afflictions.
He will be their secure refuge during life, and above all, in death.
He will bestow abundant blessings upon all their undertakings.
Sinners will find in His Heart the source and infinite ocean of mercy.
Lukewarm souls shall become fervent.
Fervent souls shall quickly mount to high perfection.
He will bless every place in which an image of His Heart is exposed and honored.
He will give to priests the gift of touching the most hardened hearts.
Those who shall promote this devotion shall have their names written in His Heart.
In the excessive mercy of His Heart that His all-powerful love will grant to all those who receive Holy Communion on the First Fridays in nine consecutive months the grace of final perseverance; they shall not die in His disgrace, nor without receiving their sacraments. His divine Heart shall be their safe refuge in this last moment.
The devotion to the Sacred Heart of Jesus is devotion to Jesus Christ Himself.
Ave Maria!
Jesus, I Trust In You!
+ Mikel A. | RosaryNetwork.com, New York
[ Second Year Anniversary | In the Memory of María Blanca ]
From the earliest days of the Church, "Christ's open side and the mystery of blood and water were meditated upon."
The heart has always been seen as the "center" or essence a person ("the heart of the matter," "you are my heart," "take it to heart," etc.) and the wellspring of our emotional lives and love ("you break my heart," "my heart sings," etc.)