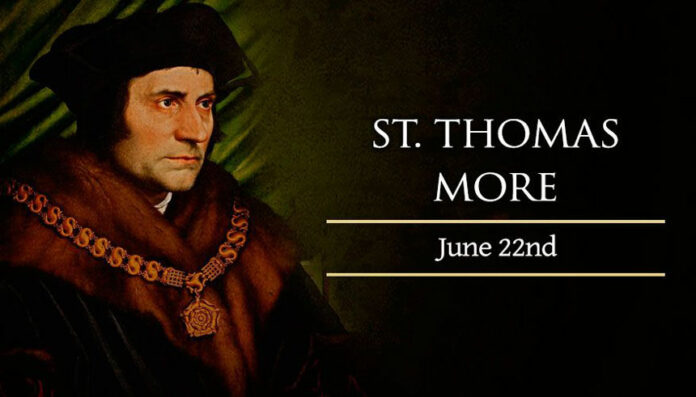 • June 22, 2023, Today's Rosary on YouTube | Daily broadcast at 7:30 pm ET
• Audio Podcast of this Rosary is Available Here Now!
Friends of the Rosary:
We remember today St. Thomas More, Chancellor of England and saint of God beheaded in the Tower of London in 1535.
Thomas More was an intensely spiritual man, literary scholar, eminent lawyer, gentleman, and father of four children. Few saints are more relevant to our time. We honor his life and martyrdom.
Thomas More refused to approve King Henry VIII's divorce and remarriage and establishment of the Church of England, breaking with Rome and denying the Pope as the head. He decided not to support the King's divorce from Catherine of Aragon in order to marry Anne Boleyn. Nor he didn't acknowledge Henry as the supreme head of the Church in England.
His belief that no lay ruler has jurisdiction over the church of Christ cost Thomas More his earthly life. He did not compromise his moral values in order to please the King!
Four hundred years later, in 1935, Thomas More was canonized as a saint. In 2000, Pope John Paul II named him patron of statesmen and political leaders.
Today, we also celebrate the feast of two bishops, John Fisher and Paulinus of Nola.
Ave Maria!
Jesus, I Trust In You!
St. Thomas More, Pray for Us!
To Jesus through Mary!
+ Mikel A. | RosaryNetwork.com, New York