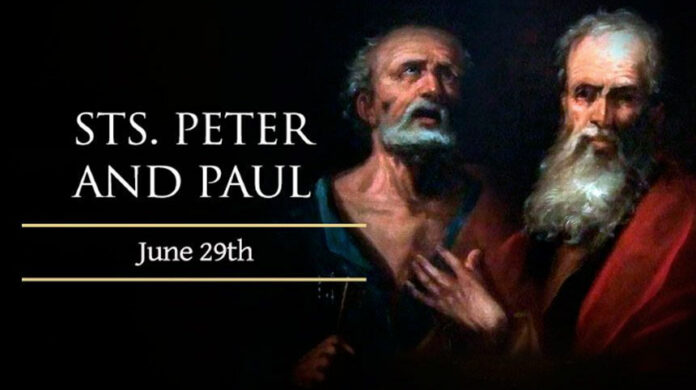 • June 29, 2023, Today's Rosary on YouTube | Daily broadcast at 7:30 pm ET
• Audio Podcast of this Rosary is Available Here Now!
Friends of the Rosary:
Today, the universal Church celebrates the Solemnity of Saints Peter and Paul, the two great apostles who are the solid rock on which the Church is built.
Sanctified by their martyrdom, they make Rome — then the capital of the Empire — the center of the Christian world whence should radiate the preaching of the Gospel.
St. Peter suffered martyrdom under Nero, in A.D. 66 or 67. He was buried on the hill of the Vatican where recent excavations have revealed his tomb on the very site of the Basilica of St. Peter's.
St. Paul was beheaded in Rome's Via Ostia on the spot where now stands the basilica bearing his name.
Down the centuries Christian people in their thousands have gone on pilgrimage to the tombs of these Apostles.
Ave Maria!
Jesus, I Trust In You!
Saints Peter and Paul, Pray for Us!
To Jesus through Mary!
+ Mikel A. | RosaryNetwork.com, New York