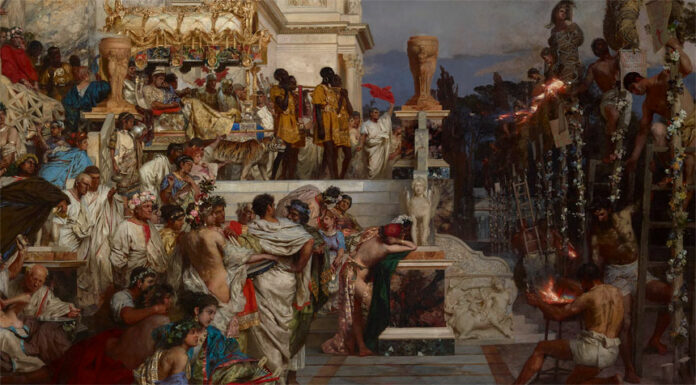 • June 30, 2023, Today's Rosary on YouTube | Daily broadcast at 7:30 pm ET
• Audio Podcast of this Rosary is Available Here Now!
Friends of the Rosary:
Today, the universal Church honors the nameless followers of Christ brutally killed by the wicked Emperor Nero in Rome. We celebrate the memorial of the first martyrs of the Holy Roman Church.
The historians Tacitus and St. Clement of Rome tell of a night of horror (August 15, 64 A.D.) when in the imperial parks a great multitude of Christians was made into living torches to light the road for Nero's chariot. Many others were killed by crucifixion or by feeding to the wild animals in his circus.
These "proto-martyrs" of Rome were the first Christians persecuted en masse by Emperor Nero, before the martyrdom of Saints Peter and Paul.
Threatened by an army revolt and condemned to death by the senate, Nero committed suicide in A.D. 68 at the age of thirty-one.
Today, the site of Nero's Circus, also the location of St. Peter's martyrdom, is marked by the Piazza dei Protomartiri Romani (Square of the Roman Protomartyrs) in the Vatican next to St. Peter's Basilica.
These martyrs were called the "Disciples of the Apostles" and their firmness was a powerful testimony that led to many conversions in the early Roman Church.
The blood of martyrs has always been the seed of Christians. Martyrs mean victory over death and sin.
Ave Maria!
Jesus, I Trust In You!
To Jesus through Mary!
+ Mikel A. | RosaryNetwork.com, New York