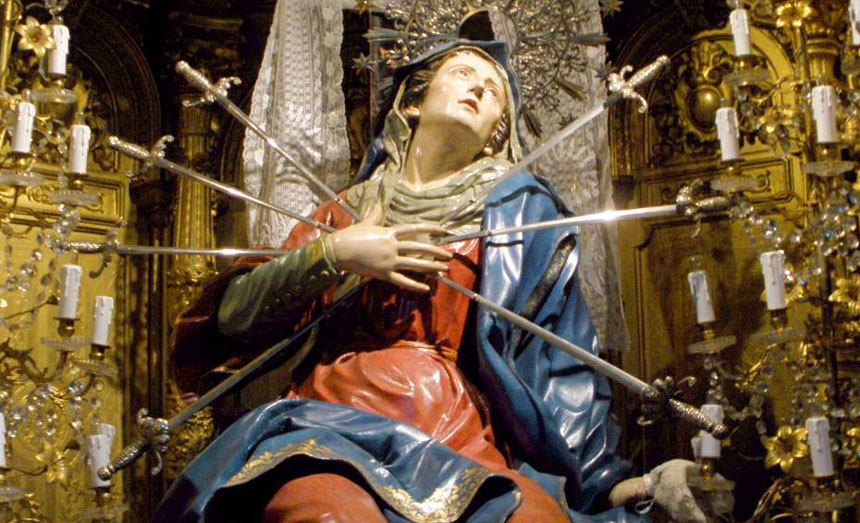 • March 26, 2021, Holy Rosary Today 7:30 pm ET, YouTube.com/TheRosaryNetwork
• Audio Podcast available by 6:00 pm ET
Friends of the Rosary:
Today, on the fifth week of Lent, the Friday before Palm Sunday is the Friday of Sorrows or Viernes de Dolores.
This devotion started in the 15th century and is specially celebrated in Italy, Latin America, Spain, and the Philippines.
This feast is a remembrance of the sorrowful Blessed Virgin Mary, who suffered a spiritual martyrdom.
It highlights the emotional pain that the Passion of Jesus Christ caused to the Blessed Virgin Mary, who is venerated under the title of Our Lady of Sorrows.
During her earthly life, the Mother of God suffered seven sorrows:
The Prophecy of Simeon (Luke 2:34-35)
The Flight into Egypt (Matthew 2:13-21)
The Loss of Jesus for Three Days (Luke 2:41-50)
Meeting Jesus on his way to Calvary (John 19:17)
Standing at the foot of the Cross (John 19:18-30)
Jesus being taken from the Cross  (John 19:39-40)
Jesus Laid in the Tomb (John 19:39-42)
Ave Maria!
[Written by Mikel A. | TheRosaryNetwork.org, New York]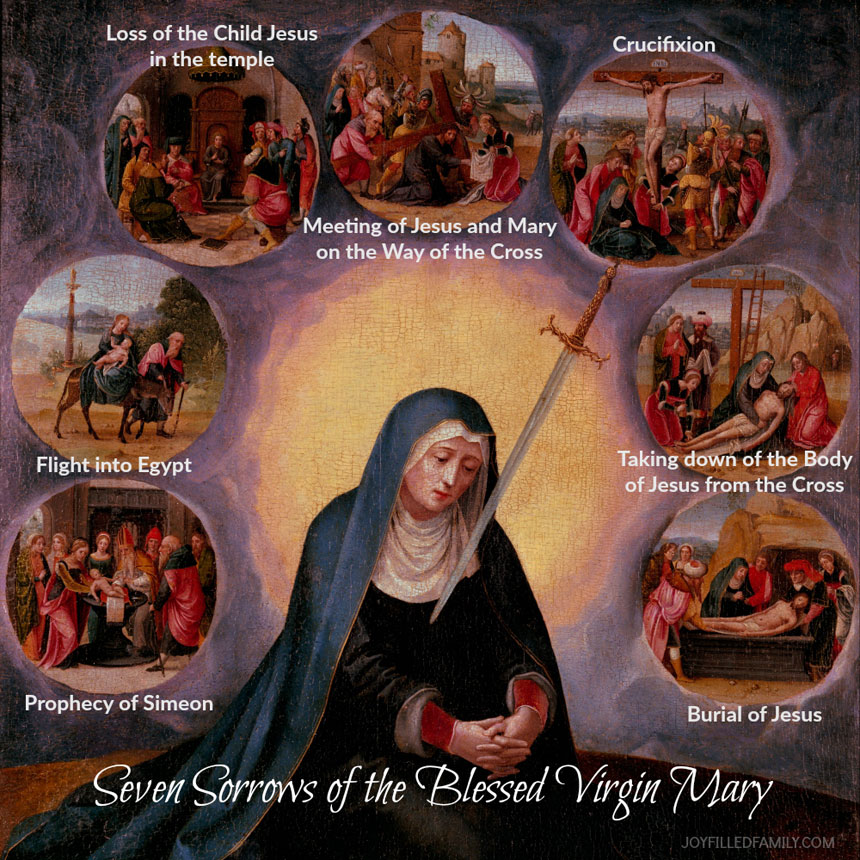 Text in Spanish from Fundación Cari Filii:
Se acerca la Semana Santa y en ella contemplaremos los dolores de la Virgen Santísima, todos ligados a la Redención. La tradición los condensa en siete.
La profecía de Simeón: «Una espada te traspasará el alma». Dios había mostrado a aquel hombre justo qué significaba ser «signo de contradicción».
La huida a Egipto, abandonando todo lo que les unía a su tierra hacia un destino desconocido, porque un hombre perverso había decidido matar a su bebé.
La pérdida de Jesús en el Templo, un martirio de tres días de incertidumbre e incomprensión que ni las palabras del Hijo reencontrado suavizaron.
El camino del Calvario: Jesús, ya desangrándose, caminaba a duras penas, caía bajo el peso de la Cruz. Y, aún más lacerante, le veía insultado y escupido por aquellos mismos a quienes había regalado milagros y misericordias.
La crucifixión, brutal y despiadada, y la insoportable agonía, de la que dan cuenta las escasas palabras que pudo pronunciar Cristo, ahogándose ante sus ojos.
La lanzada y el descendimiento: ¡cómo debió sufrir María al asistir a ese golpe innecesario y profanador contra su Hijo muerto! ¡Y qué horror abrazar el cuerpo sin vida que tantas veces había acunado, anonadada por el don recibido!
La terrible soledad hasta Pascua y después de la Ascensión, aun si su alma gozó siempre de una unión especialísima con la Santísima Trinidad y aun si hubiera sido visitada alguna vez, como bálsamo, por Jesús Resucitado.