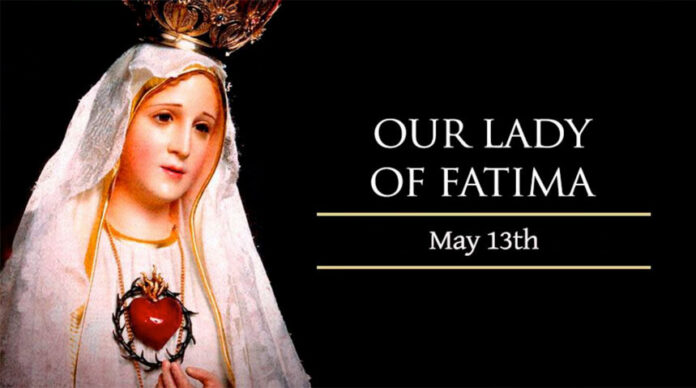 • May 13, 2023, Today's Rosary on YouTube | Daily broadcast at 7:30 pm ET
• Audio Podcast of this Rosary is Available Here NOW!
Friends of the Rosary:
On May 13, 1917, in Fatima, Portugal, the Blessed Virgin Mary appeared to three poor shepherd children — Lucia, Jacinta, and Francisco. Today, the Catholic Church celebrates the memorial of Our Lady of Fatima.
Today is also the traditional commemoration of Our Lady of the Most Blessed Sacrament, to honor her relationship to the Holy Eucharist and place her before us as a model in our duties and devotion to the Blessed Sacrament.
The message of Fatima is a call to conversion of heart, repentance from sin, and a dedication to the Blessed Virgin Mary, especially through the prayer of the Rosary, works of penance, and recourse to her Immaculate Heart.
On October 13 Mary said: "I have come to exhort the faithful to change their lives, to avoid grieving Our Lord by sin; to pray the Rosary. I desire in this place a chapel in my honor."
In the summer of 1916, an Angel appeared to three shepherds several times and taught them a prayer to the Blessed Trinity.
Further apparitions of the Virgin took place on June 13, July 13, August 19, September 13, and October 13.
In the last apparition, the woman revealed her name in response to Lucia's question: "I am the Lady of the Rosary."
She called again called for prayer and penitence.
On that day a celestial phenomenon also took place: the sun seemed to tumble from the sky and crash toward Earth.
As at Lourdes, the "apparitions" of Fatima have brought crowds of visitors. Pilgrimages, which began in the summer of 1917, have experienced growing success.
Popes have shown exceptional favor toward Fatima, Pius XII, Paul VI, John Paul II, Benedict XVI, and Francisco, in particular making a visit to the shrine in Fatima.
Ave Maria!
Jesus, I Trust In You!
Our Lady of Fatima, Pray for Us!
+ Mikel A. | RosaryNetwork.com, New York