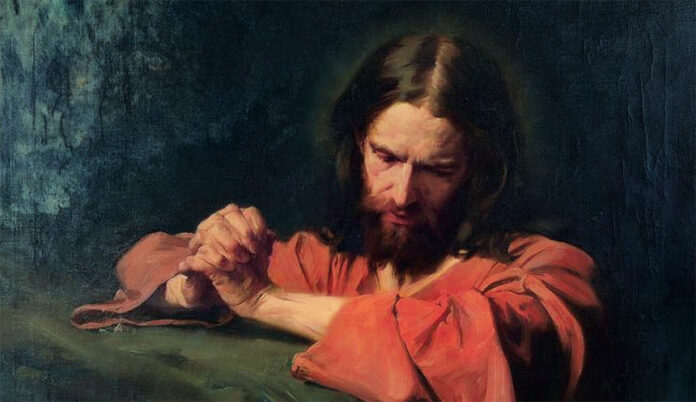 • May 23, 2023, Today's Rosary on YouTube | Daily broadcast at 7:30 pm ET
• Audio Podcast of this Rosary is Available Here Now!
Friends of the Rosary:
In today's Gospel (Jn 17:1-11a), Jesus raised his eyes to heaven and talked to the Father:
"Father, the hour has come. Give glory to your son, so that your son may glorify you."
"I glorified you on earth by accomplishing the work that you gave me to do.
Now glorify me, Father, with you, with the glory that I had with you before the world began."
"I revealed your name to those whom you gave me out of the world."
God and humanity, heaven and earth, came together in Jesus. He revealed God's will and purpose to Earth.
The bread of life came to unite us, invite the poor to the table, heal the sick in body and heart, and embody the path of forgiveness and love.
As Bishop Barron wrote:
"In his Passion and death, Jesus brought heaven all the way down into the world. He carried the divine light into the darkest places of the human condition—hatred, cruelty, violence, corruption, stupidity, suffering, and death itself—and thereby transformed them. And the proof that heaven is able to transform earth is, of course, the Resurrection."
"Now we know that cruelty, hatred, violence, fear, suffering, and death are not the most powerful forces in the world. Now we know that the divine love is more powerful. God's kingdom has, in principle, broken the kingdoms of the world, which thrive upon, and in turn produce, those very negativities."
Ave Maria!
Jesus, I Trust In You!
+ Mikel A. | RosaryNetwork.com, New York