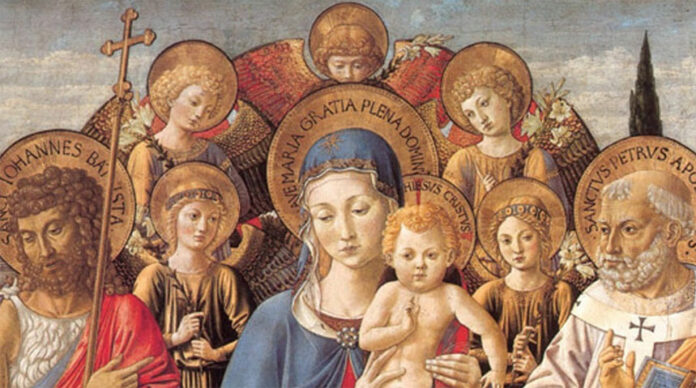 • May 30, 2023, Today's Rosary on YouTube | Daily broadcast at 7:30 pm ET
• Audio Podcast of this Rosary is Available Here Now!
Friends of the Rosary:
St. Paul VI, at the conclusion of the Second Vatican Council in 1964, declared the Blessed Virgin Mary as Mother of the Church, establishing that "all Christian people, the faithful as well as the pastors, should further honor and invoke the Mother of God.'
Decades later, Pope Francis promoted this devotion in order to "encourage the growth of the maternal sense of the Church in the pastors, religious and faithful, as well as a growth of genuine Marian piety."
Saint Augustine and Pope Saint Leo the Great both reflected on the Virgin Mary's importance in the mystery of Christ.
"Mary is the mother of the members of Christ, because with charity she cooperated in the rebirth of the faithful into the Church," wrote St. Augustine.
St. Leo the Great indicated that "Mary is at once Mother of Christ, the Son of God, and mother of the members of his Mystical Body, which is the Church."
The fathers of the Church have always highlighted the divine motherhood of Mary and her intimate union in the work of the Redeemer.
Mary was depicted at the foot of the Cross (cf. Jn 19:25). "There she became the Mother of the Church when she accepted her Son's testament of love and welcomed all people in the person of the beloved disciple as sons and daughters to be reborn unto life eternal," wrote St. Paul VI.
Ave Maria!
Jesus, I Trust In You!
Come, Thou Holy Spirit, Come!
Mary, Mother of the Church, Pray for Us!
+ Mikel A. | RosaryNetwork.com, New York