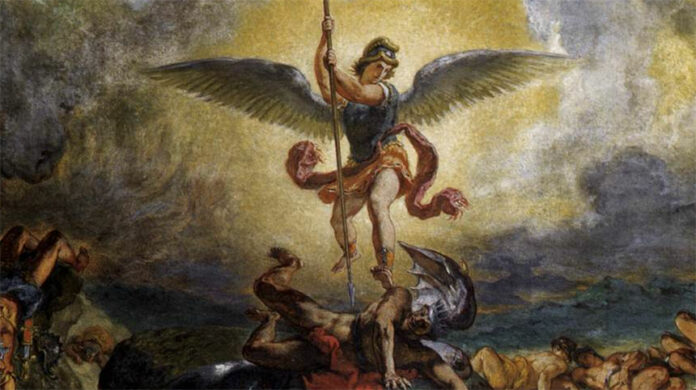 • May 8, 2023, Today's Rosary on YouTube | Daily broadcast at 7:30 pm ET
• Audio Podcast of this Rosary is Available Here Now!
Friends of the Rosary:
Today, the Universal Church celebrates the feast of the apparition of St. Michael on the summit of Monte Gargano (Castel Sant' Angelo), on the Adriatic coast of Italy in the sixth century, where a sanctuary was built.
We may also mention his apparition, among others, in Rome to Saint Gregory the Great; and in France's Mont-Saint-Michel — a famous pilgrimage site today — to Saint Aubert, bishop of Avranches.
The Archangels — among them, Saints Michael, Gabriel, and Raphael are the distinguished ones — are heavenly spirits who help the Divinity to dispense His providence in our world. They have the power of moving at will from place to place.
Saint Michael, whose name means Who is like unto God?, is the prince of the faithful Angels who opposed Lucifer and his followers in their revolt against God and His holy Church.
Of all the angels, none is accorded greater veneration than St. Michael.
Saint Michael is the patron of the Church on Earth and our special protector against the demon's assaults and stratagems.
Also, the feast of St. Michael is celebrated on September 29th.
Ave Maria!
Jesus, I Trust In You!
St. Michael, Pray for Us!
+ Mikel A. | RosaryNetwork.com, New York