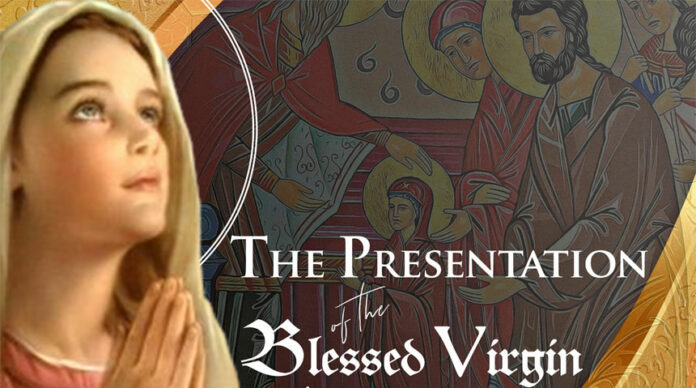 • November 21, 2023, Today's Rosary on YouTube | Daily broadcast at 7:30 pm ET
• The Audio Podcast of this Rosary is Available Here Now!
Friends of the Rosary:
Today, we celebrate the Memorial of the Presentation of Mary.
Liturgically, the cycle of these three Marian feasts: the Birthday of Our Lady (September 8), the Holy Name of Mary (September 12), and her Presentation in the Temple (November 21) precedes the first three feasts of our Lord: the birth of Christ on Christmas (December 25), the Holy Name of Jesus (January 3), and His Presentation in the Temple (February 2).
According to the tradition, after an angel had revealed her pregnancy, Anna is said to have vowed her future child Mary to the Lord.
At the age of three Mary was transferred to the temple. Here she received her nourishment from the hand of an angel.
In the East, the feast is known as The Entrance of the Mother of God into the Temple. It has been celebrated since the eighth century.
We meditate today's Mary's presentation as a preparation for the approaching season of Advent.
Ave Maria!
Jesus, I Trust In You!
To Jesus through Mary!
+ Mikel A. | RosaryNetwork.com, New York