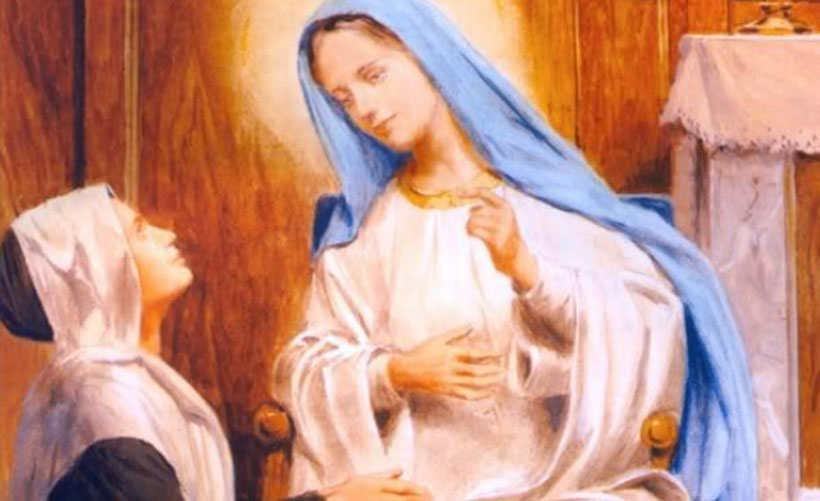 • November 28, 2020, Holy Rosary at 7:30 pm ET YouTube.com/TheRosaryNetwork
• Audio Podcast available by 6:00 pm ET
Friends of the Rosary,
We honor today St Catherine Labouré, the humble French nun to whom, at the age of 24, the Immaculate Conception appeared, requesting that the Miraculous Medal be stamped.
St. Catherine Labouré received three apparitions from the Virgin Mary, a vision of Christ present in the Eucharist, and a mystical encounter with St. Vincent de Paul.
After the visions ceased, St. Catherine Labouré spent the rest of her life in humble and obedient service and worked with the sick in a convent outside of Paris.
She spent 45 years in silence, not telling her superior that she was the one to whom Mary appeared and gave the medal. This saint was a paramount example of the merciful love of God, that Our Lady of the Miraculous Medal had proclaimed.
Ave Maria!
[Written by Mikel A | The Rosary Network, New York]
__
This year marks the 190th anniversary of the Marian apparitions to St. Catherine Labouré in Paris.
St. Maximilian Kolbe, who died at Auschwitz in 1941, was a firm believer that the graces that can accompany the Miraculous Medal.
"This is truly our heavenly weapon," the saint said, describing the medal as "a bullet with which a faithful soldier hits evil and rescues souls."
We pray for being closer to the Immaculate Mother so that we recourse to Her in all difficulties and temptations, and spread Her merciful love.