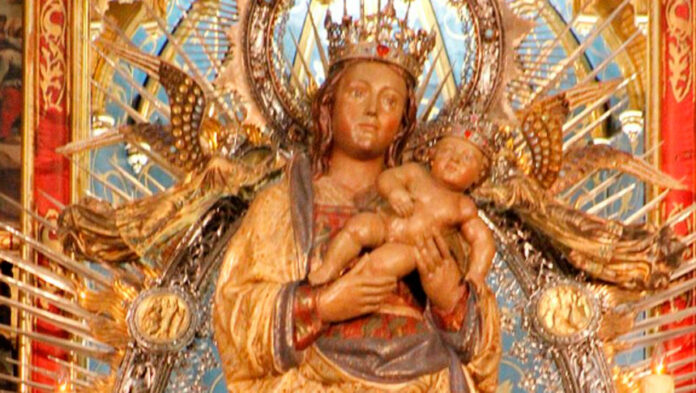 • November 9, 2023, Today's Rosary on YouTube | Daily broadcast at 7:30 pm ET
• The Audio Podcast of this Rosary is Available Here Now!
Friends of the Rosary:
Today, November 9th, the Catholic Church celebrates the Feast of the Dedication of the St. John Lateran Basilica, the cathedral of the Diocese of Rome and the oldest church in the West.
It was built in the time of Emperor Constantine — when Christians were granted freedom to practice their religion — and consecrated by Pope Sylvester in 324.
Also called the Church of Holy Savior or the Church of St. John Baptist, the Lateran Basilica is "the mother and mistress of all churches of Rome and the world". 
This solemnity recalls that the temple of stones is a symbol of the living Church, the Christian community. We celebrate the mystery of God's desire to build a spiritual temple in the world, a community that worships him in spirit and truth (cf. John 4:23-24).
Also, today, is the feast — and a major holiday — of the Virgin of Almudena, patron saint of Madrid, Spain. People in Madrid venerate the image of the Virgin of Almudena, a medieval statue of the Virgin Mary that protected the city against the Muslim forces in the 11th century. The Cathedral of Madrid is dedicated to the Virgin under this title.
From this city, we pray today's Rosary.
Ave Maria!
Jesus, I Trust In You!
Virgin of Almudena Pray for Us!
To Jesus through Mary!
+ Mikel A. | RosaryNetwork.com, New York