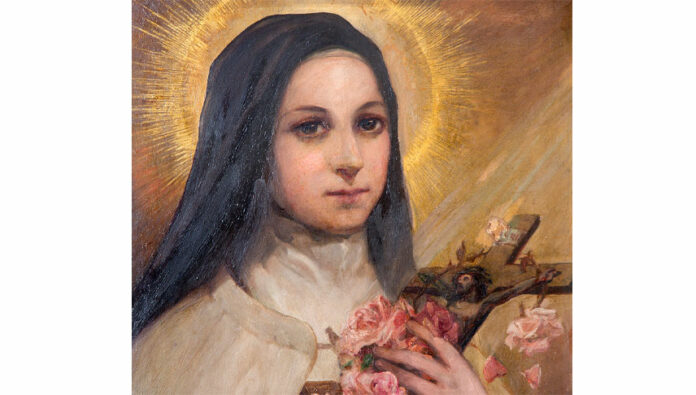 • October 1, 2023, Today's Rosary on YouTube | Daily broadcast at 7:30 pm ET
• The Audio Podcast of this Rosary is Available Here Now!
Friends of the Rosary:
The month of October is dedicated to the Holy Rosary. Today, the Sunday liturgy supersedes the Memorial of St. Thérèse of the Child Jesus and the Holy Face (1873-1897), more popularly known as "the Little Flower."
This French Carmelite nun, patroness of all foreign missions and patroness of France, and declared a Doctor of the Church by Pope St. John Paul II, died of consumption at the age of 24.
The Little Flower attained a very high degree of holiness by carrying out her ordinary daily duties with perfect fidelity, having a childlike confidence in God's providence and merciful love, and being ready to be at the service of others at all times.
She also had a great love of the Church and a zeal for the conversion of souls. She prayed especially for priests.
Her interior life is known through her autobiography called Story of a Soul.
Ave Maria!
Jesus, I Trust In You!
St. Thérèse of the Child Jesus Pray for Us!
To Jesus through Mary!
+ Mikel A. | RosaryNetwork.com, New York