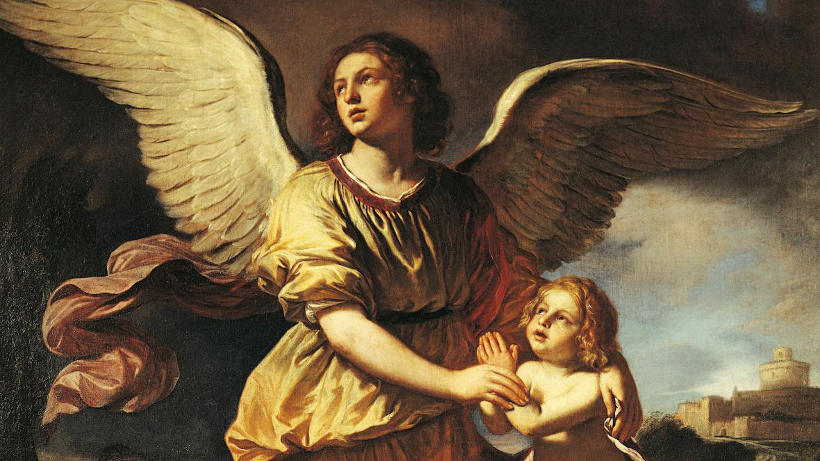 • October 2, 2020, Holy Rosary at 7:30 pm ET, at TheRosaryNetwork.org/youtube
• Audio Podcast available by 8:00 pm ET
Friends of the Rosary,
It is a truth of our Catholic faith that each soul has assigned to it a guardian angel.
In today's Gospel, Jesus points out that all people, even little children, have a guardian angel in heaven watching over us and looking at the face of God throughout their mission on earth (Matthew 18:10).
It is also written that the Lord Jesus was strengthened by an angel in the Garden of Gethsemane and that an angel delivered St. Peter from prison.
So each of us has an angelic guardianship from our birth and until death.
These spirits – servants and messengers from God; "Angel" in Greek means messenger – guide us to heaven only if we desire it. Because, as St. Thomas Aquinas wrote, angels cannot act directly upon our will or intellect.
Today's feast, which appeared in Spain during the sixteenth century, is an invitation to pray to our guardian angels.
[Written by Mikel A | The Rosary Network, New York]
__
For recognizing that angels are our protectors and guides in the path toward salvation. They assist us on our earthly pilgrimage by helping us in temptation and protecting us from physical danger. With such bodyguards, what are we to fear?
As St. Bernard of Clairvaux, wrote, "As often as you sense the approach of any grave temptation or some crushing sorrow hangs over you, invoke your protector, your leader, your helper in every situation. Call out to him and say: Lord, save us, we are perishing."
The prayer to the guardian angels has been present in the Church since at least the beginning of the 12th century:
Angel of God,
my Guardian dear,
to whom His love
commits me here,
ever this day
be at my side,
to light and guard,
to rule and guide.
Amen.
[Written by Mikel A | The Rosary Network, New York]
—