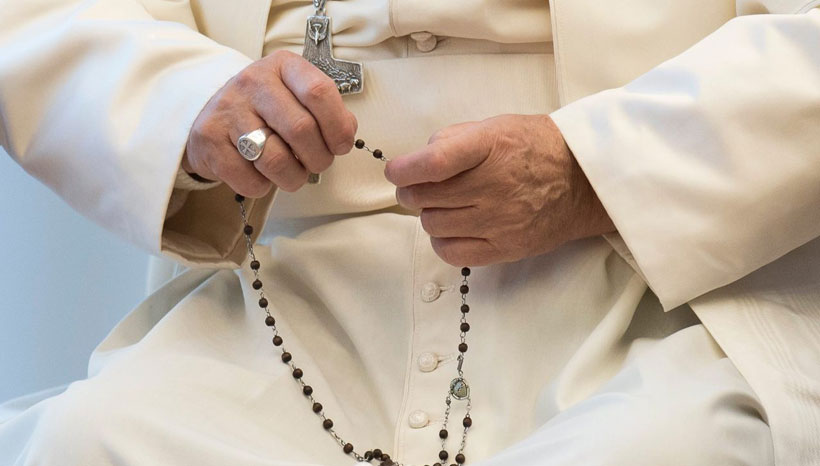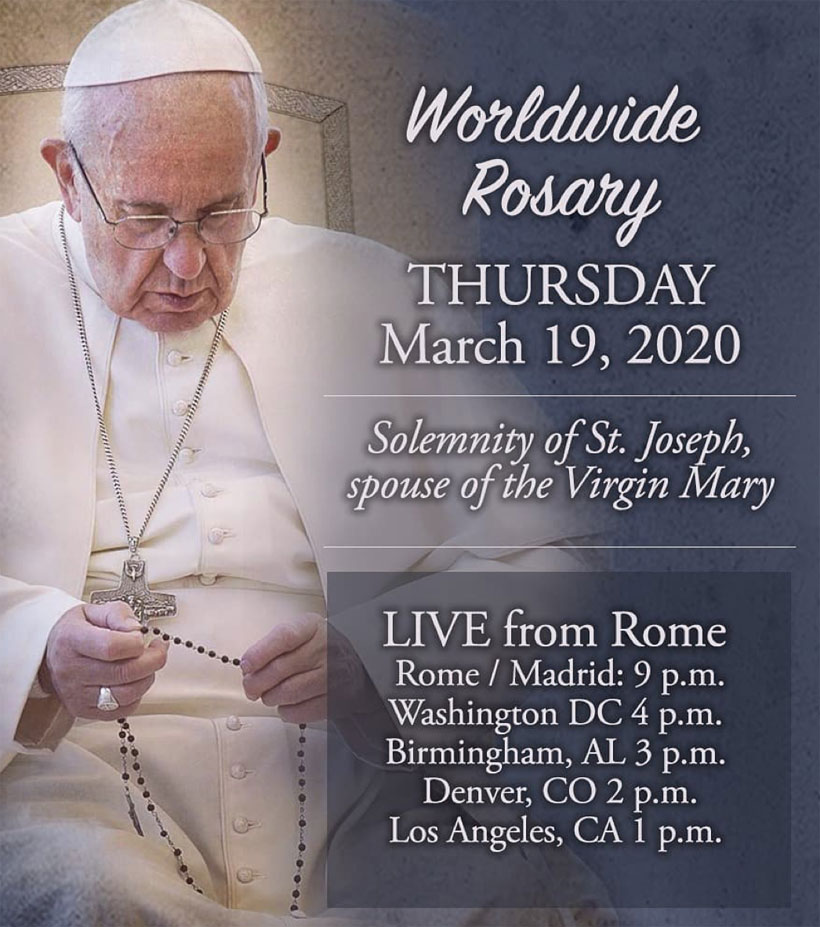 ZENIT | The Rosary Network
Pope Francis on March 18, 2020, urged the faithful to invoke St. Joseph with trust during difficult times.
His comments came during his live-streamed general audience. He reminded listeners that tomorrow – March 19 – is the Solemnity of St. Joseph.
"I warmly greet the Italian-speaking faithful, with a special thought for the young people, the elderly, the sick and the newlyweds," the Holy Father said. "Tomorrow we will celebrate the Solemnity of Saint Joseph. In life, in work, in the family, in joy and in sorrow, he always sought and loved the Lord, meriting Scripture's praise as a just and wise man. Invoke him always with trust, especially in difficult moments, and entrust your existence to this great Saint."
Pope Francis appealed for prayer, especially the Rosary, during the current health crisis.
He embraced the appeal for prayers of the Italian Bishops:
I make my own the appeal of the Italian Bishops who in this health emergency have promoted a moment of prayer for the whole country. Every family, every faithful, every Religious Community, all united spiritually tomorrow at 9:00 pm for the recitation of the Rosary, with the Mysteries of Light. I will accompany you from here. Mary, Mother of God, Health of the Sick, leads us to the luminous and transfigured face of Jesus Christ and to His Heart. We turn to Her with the prayer of the Rosary, under the loving gaze of Saint Joseph, Custodian of the Holy Family and of our families. And we ask him to guard our family, our families, in a special way, in particular the sick and the persons taking care of the sick: the doctors, the men and women nurses, the volunteers, who risk their lives in this service.
Especialmente por los enfermos y sus cuidadores
Mañana, 19 de marzo, fiesta de San José, el Papa Francisco invita a los italianos a rezar el Rosario a las 21 horas, fiesta de San José, y a pedir especialmente por los enfermos de coronavirus y por los que "arriesgan sus vidas" para curarlos.
Este llamado fue realizado hoy, 18 de marzo de 2020, por el Santo Padre durante la audiencia general celebrada en la biblioteca del Palacio Apostólico y transmitida en streaming debido a la situación de emergencia por el virus Covid-19.
Rosario en el día de san José
Al final de la audiencia, en su saludo dirigido a los ancianos, enfermos, los jóvenes y los recién casados, Francisco recordó que, efectivamente, mañana se celebra festividad de san José. Sobre él, destacó: "En la vida, el trabajo, la familia, la alegría y el dolor siempre buscó y amó al Señor, haciéndose acreedor de la alabanza de las Escrituras como hombre justo y sabio" e invitó a invocarlo "siempre, especialmente en tiempos difíciles, y encomendad vuestra existencia a este gran santo.".
Después, el Papa se unió al llamamiento de los obispos italianos que en esta "emergencia sanitaria han promovido un momento de oración por todo el país". Así, sostuvo que todos los fieles, familias y comunidades religiosas permanezcan "unidos espiritualmente mañana a las 21 en el rezo del Rosario, con los Misterios Luminosos".
Petición especial a la Virgen
"Al rostro luminoso y transfigurado de Cristo y a su Corazón nos conduce María, Madre de Dios, Salud de los enfermos, a quien nos dirigimos con el rezo del Rosario, bajo la mirada amorosa de san José, Custodio de la Sagrada Familia y de nuestras familias", continuó el Santo Padre.
"Y le pedimos que proteja de forma especial a nuestra familia, a nuestros familiares, en particular a los enfermos y a las personas que los atienden: los médicos, los enfermeros, las enfermeras, los voluntarios que arriesgan sus vidas en este servicio", concluyó.
En la catequesis de hoy el Santo Padre reflexionó sobre la quinta bienaventuranza: "Dichosos los misericordiosos, porque ellos alcanzarán misericordia" (Mt 5,7). Así, resaltó la reciprocidad de la misericordia: "No podemos denegar el perdón a quien nos ha ofendido, por muy difícil que sea, porque necesitamos recordar que solo 'perdonando a los demás, somos perdonados por Dios'".