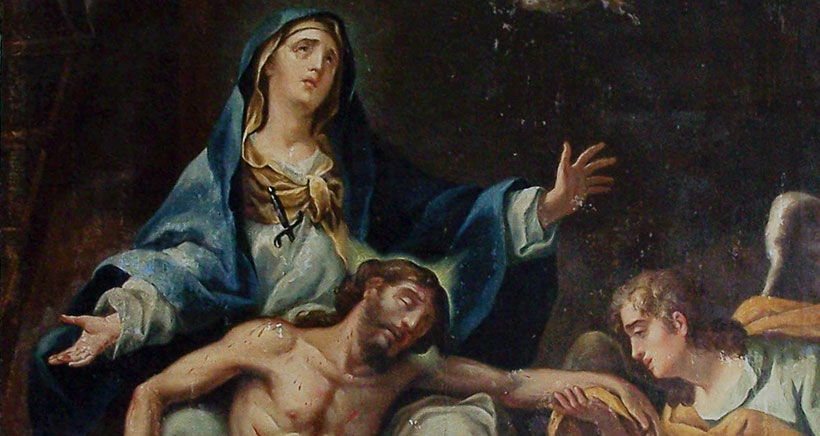 • September 15, 2020, Holy Rosary at TheRosaryNetwork.org/youtube 
• Audio Podcast available by 8:00 pm ET
Friends of the Rosary,
Today we commemorate the Memorial of Our Lady of Sorrows, and we are invited to reflect on Mary's deep suffering in relation to Her Son.
The Virgin Mary experienced seven great sorrows, from the flight into Egypt to the crucifixion and death of Jesus. The heart of the Blessed Mother was pierced by seven swords.
Immaculate Mary stood at the foot of the Cross and held Jesus taken from the Cross, as dramatically reflected Michelangelo's Pieta.
In her suffering as co-redeemer, Our Lady reminds us of the tremendous evil of sin and shows us the way of true repentance.
These are the seven sorrows, along with the readings:
At the prophecy of Simeon: "You yourself shall be pierced with a sword – so that the thoughts of many hearts may be laid bare." (Luke 2:25-35).
At the flight into Egypt: "Get up, take the child and his mother, and flee to Egypt." (Mt 2:13).
Having lost the Holy Child at Jerusalem for three days: "You see that your father and I have been searching for you in sorrow." (Luke 2:48).
Meeting Jesus on his way to Calvary: (Luke 23:27-31; John 19:17).
Standing at the foot of the Cross: "Near the cross of Jesus there stood His mother." (John 19:25).
Jesus being taken from the Cross: (Psalm 130; Luke 23:50-54; John 19:31-37)
At the burial of Christ: (Isaiah 53:8; Luke 23:50-56; John 19:38-42; Mark 15:40-47)
[Written by Mikel A | The Rosary Network, New York]
__
For the devotion to the Seven Sorrows of Our Lady while we pray today the Sorrowful Mysteries. May the tears of the Mother of God lead to our salvation.
For learning from the Martyrs across history who shed their blood for Christ.
This feast today—which dates back to the 12th century—is dedicated to the spiritual martyrdom of Mary, who is the Queen of Martyrs.
September is traditionally dedicated to Our Lady of Sorrows.