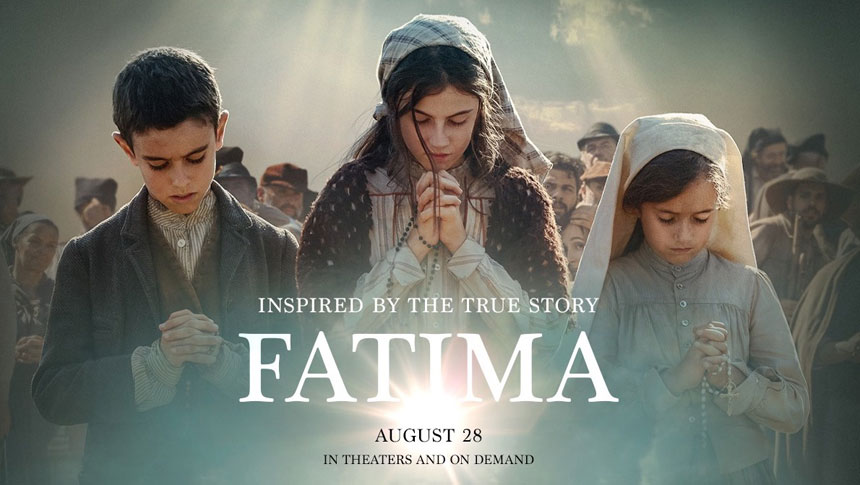 • September 21, 2020, Holy Rosary at TheRosaryNetwork.org/youtube 
• Audio Podcast available by 8:00 pm ET
Friends of the Rosary,
The movie "Fatima" is on display on major online platforms, including YouTube. Let me share the link to the free access.
The movie, based on historical events, features the story of Lucía and the other two young shepherds, Francisco and Jacinta, recently declared saints. "Fatima" is an emotional, intense, faith-based drama, that we recommend.
It narrates the negative reaction to the apparitions of the Virgin Mary and rightly conveys the message of Fatima. Pray the Rosary every day and do penance and sacrifices for the conversion of sinners and in reparation to the sins committed against the immaculate heart of Mary and the most sacred heart of Jesus.
This message seems medieval, taken even from the Stone Age, right? Wrong, it cannot be more timely.
The Holy Rosary and constant sacrifices for Jesus and Mary are exactly what the world needs today. Dismissing it is just going in the opposite direction.
[Written by Mikel A | The Rosary Network, New York]
___
For following the example of St Matthew, Apostle and Evangelist, whose feast we celebrate today Monday, September 21st. We want to understand the call of Jesus, leaving everything and following Him, as Matthew did.
For receiving the grace of the joyful mysteries, making our souls humble, charitable, poor in spirit, obedient and pious.
For the health of David Calzada, who is fighting for his life.